Game Thread – Live Blog: Indiana @ Iowa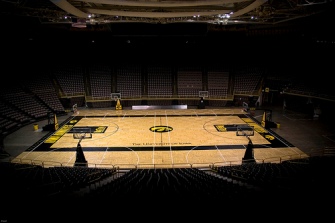 Opponent: Iowa
Date: Wednesday, January 2, 2008 | 9:06 EST
Arena: Carver-Hawkeye Arena (15,500) – Iowa City, Iowa
Line: Indiana by 10
All-time series: Indiana leads 91-68
TV: Big Ten Network (Mark Neely and Shon Morris)

Radio: IU Radio Network (Don Fischer, Todd Leary and Joe Smith)
Probable Starters:
Indiana (11-1): Armon Bassett, Eric Gordon, Jamarcus Ellis, Mike White, D.J. White
Iowa (7-6): Jeff Peterson, Jake Kelly, Justin Johnson, Cyrus Tate, Kurt Looby
Game Notes (Adobe Reader required to view):
As always, your predictions and comments are welcome in the game thread. I'll also be live blogging during the game, so after the tip, check for updates after the jump.
(Photo credit: Jon Fravel)
LIVE BLOG:
Indiana 79, Iowa 76 (final): Where's the rolaids?
Indiana 78, Iowa 76 (4.8): Justin Johnson for three. From DEEP. Again.
Indiana 77, Iowa 73 (13.9): Another three for Justin Johnson.
Indiana 77, Iowa 70 (20.2): Two free throws by D.J. White.
Indiana 75, Iowa 70 (21.1): Justin Johnson dials it up from about 27 feet. He's got six threes in the game.
Indiana 73, Iowa 67 (41.5): You don't see it often, but Iowa has two four-point plays. A.J. Ratliff is the culprit on this occasion.
Indiana 73, Iowa 63 (49.8): Iowa has no timeouts and is starting to foul. Jordan Crawford steps up and hits two.
Indiana 69, Iowa 57 (2:10): Gordon's 25 points have given him an IU record for a freshman in a Big Ten debut. Steve Alford previously held that record with 24.
Indiana 67, Iowa 56 (4:14): Gordon has 24 points and after a nice defensive possession by the Hoosiers, Kelvin Sampson wants a quick timeout.
Indiana 65, Iowa 56 (5:21): Back to back dunks by D.J. send Iowa to a timeout. D.J. has another double-double with 13 points and 12 rebounds.
Indiana 59, Iowa 51 (7:47): Ellis is keeping the Hoosiers ahead with his hustle and rebounding. The Chipola product has 14 points and seven rebounds. Gordon finds his way back to the line and knocks down a pair. DeAndre Thomas enters the game and gets a chance on the block and the Iowa defender tries the Vlade Divac flop and doesn't get the call. Thomas gets to the line and knocks down a pair as the Iowa students chant "Dunkin' Donuts." Thomas hits another shot in the lane on the next Hoosier possession. After Cyrus Tate hits one of two free throws, Eric Gordon comes back with a reverse layup and draws a foul. He hits the free throw to push his total to 20. Looby is fouled for the Hawkeyes and will be at the line after the TV break.
Indiana 47, Iowa 44 (11:52): Still too much one-on-one for the Hoosiers, but a three by Lance Stemler has the Hoosiers back on top. Jordan Crawford is now on the bench and Gordon and Ellis are splitting duties at the point guard. Ratliff has also re-entered and D.J. has three fouls.
Iowa 42, Indiana 38 (15:54): After a 4-0 run to start the second half, Iowa comes back with a eight-point run of their own and Kelvin Sampson wants a timeout. The early defensive intensity is gone.
Indiana 38, Iowa 34 (18:15): The Hoosiers have picked up their intensity on defense and are reaping the benefits. Gordon scores an easy bucket off an out of bounds play and a steal by Jamarcus Ellis leads to a breakaway jam by Jordan Crawford.
Indiana 34, Iowa 34 (halftime): If not for an off balance shot by Jamarcus Ellis with three seconds remaining, the Hoosiers would be trailing at Carver-Hawkeye Arena. Gordon has 11 and White has 8 for the Hoosiers. For Iowa, it's Tony Freeman with 11 and Justin Johnson with eight. The Hoosiers have quite a fight on their hands and they'll need to get better offensive possessions in the second half if they hope to win.
Iowa 34, Indiana (30.3 seconds): Kurt Looby has the crowd back into the game with two dunks. Jordan Crawford seems to be forcing the issue and has a couple turnovers as a result. Eric Gordon has also had a couple of turnovers as the refs are calling traveling very closely. Justin Johnson nails another three to give the Hawkeyes a two-point pad.
Indiana 28, Iowa 25 (3:28): The combination of poor shot selection and too much one-on-one is keeping Iowa in the game. Iowa is working the ball around while the Hoosiers are taking contested threes and wild shots in the lane. Coach Sampson can't be happy with the offense. The Hoosiers have nine team fouls and Tony Freeman has 11 points to lead Iowa.
Indiana 26, Iowa 20 (6:31): Iowa stops a 9-0 Hoosier run with a three by Justin Johnson.
Indiana 26, Iowa 17 (7:25): The Hoosier Scoop is reporting that Armon Bassett has an ankle injury, which might explain why he's yet to come back into the game. Gordon will run the point for now as Crawford gets a blow. Gordon finds Ratliff for his first bucket of the season with a laser pass. Crawford comes back in and quickly nails a three. Freeman misses the front end of a one-and-one and the Hoosiers come back the other way and Eric Gordon gets to the line for two free throws. After another brick for Iowa, White finds Gordon on a back cut and Gordon finds Ellis for an easy layup.
Indiana 16, Iowa 15 (11:08): White continues his dominance in the post with a jump hook. The Hawkeyes come back the other way, run the shot clock to one and J.R. Angle nails a three.
Indiana 14, Iowa 12 (12:37): The Hoosiers come with a set play out of the first TV timeout and D.J. gets an easy layup off of a back screen. Jamarcus Ellis looks a little shaky early on. A couple of bad shots and a turnover. A.J. Ratliff enters for the first time this season. Gordon nails a three from the corner and Todd Lickliter wants to talk about it with his team.
Iowa 12, Indiana 9 (14:44): Tony Freeman is leading the way for the Hawkeyes. He's hitting the three and attacking the rim. The junior out of Maywood, Illinois has ten points. Jordan Crawford has entered for the Hoosiers as Sampson is far from pleased with Bassett's defensive effort on Freeman. Rough start for the Hoosiers.
Indiana 7, Iowa 4 (18:47): White starts off with a quick baseline jumper, but Iowa comes back and hits a three and a foul. Bassett is the guilty party. Gordon comes back with a ridiculous three and the Hoosiers get an easy basket in transition.
Pregame:
Just about ready to tip-off from Carver-Hawkeye. Wisconsin just dropped Michigan 70-54 to open the Big Ten season.
Filed to: Iowa Hawkeyes, Live Blogging