Ebanks drawing attention of NBA talent evaluators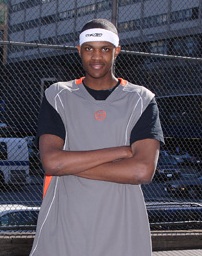 Despite the fact that he's currently suspended from his prep school and has yet to log a minute for the Hoosiers, 2008 prized recruit Devin Ebanks is already popping up on NBA mock drafts for 2009. NBAdraft.net, arguably the most prominent mock draft site anywhere on the Web, ranks Ebanks No. 11 in their early predictions for 2009.
Ebanks is ranked considerably higher than Greg Monroe, the No. 1 player in the class according to Rivals.com as well as Samardo Samuels, another top five player in the 2008 class. I spoke with one of the authors of NBAdraft.net, Aran Smith, to get his take on Ebanks and how he's viewed as a prospect at the next level:
It may be going out on a limb having him that high, but I really like Ebanks as a prospect and see him as one of the top prospects in his class in long-term potential. Ebanks isn't listed as high as Samuels and Monroe on most recruiting lists, but in terms of NBA potential, in my opinion he has more than those guys. With tremendous athletic ability, he's got a great deal of untapped potential and fits a position much better than Monroe as a prototype small forward. While Monroe is very skilled, he must get stronger to play inside and doesn't have the foot speed that Ebanks has on the perimeter.
I'm not ready to call it yet since there's a long way to go, but we could be looking at another case of one-and-done with Mr. Ebanks. It'll be interesting to see if he returns to the court for St. Thomas More Prep after the Christmas break.
Filed to: Devin Ebanks, Greg Monroe, Samardo Samuels