Indy Star reveals names involved in three-way calls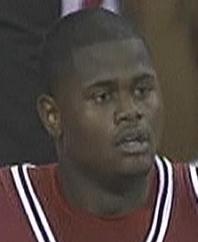 Through a public records request, the Indianapolis Star has obtained the names of the parties involved on the impermissible three-way phone calls with Kelvin Sampson. The original report had the names omitted, but the Star requested the report again with the stipulation that only the names protected by law be omitted. Here's a summary of the findings:
DeAndre Thomas and the mother of star recruit Devin Ebanks told investigators Kelvin Sampson participated in three-way phone calls that violated previously imposed NCAA sanctions against the IU basketball coach. The second version of the report revealed those involved, except Thomas. However, the circumstances in the report make it clear he was the player interviewed.

Four calls involved DeJuan Blair, currently at Pittsburgh; one involved Dele Coker, currently at St. John's; one involved William Buford, a high school player who has signed with Ohio State; and one involved Yancy Gates, a high school player who has signed with Cincinnati.

Sampson said in the report that he did not knowingly participate in three-way calls with former assistant coach Rob Senderoff. Senderoff, who subsequently resigned, said he acted as an "operator," facilitating the calls and remaining silent. But the report says Yvonne Jackson, Ebanks' mother, and Thomas "were specific in their recollections that Senderoff was involved during the whole call."
This story is going to continue to grab headlines until the NCAA releases their decision on IU's fate. And if you believe what I've been told on the time line for that to happen, it won't be anytime soon.
My stance on this hasn't changed. As Allen Iverson would say, we're talking about phone calls. Not cash in duffle bags. Not paying for families to live in million dollar properties (ala Reggie Bush at USC). We're talking about phone calls. While Sampson should have steered clear of this type of behavior, I'm willing to forgive and forget as long as the hammer isn't brought down by the decision makers in Indianapolis.
Filed to: DeAndre Thomas, Devin Ebanks, Kelvin Sampson, NCAA allegations