Hoops Weiss on EJ, Dickie V takes a leave from ESPN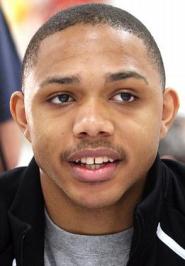 – Dick "Hoops" Weiss of the New York Daily News appeared on the Zonebusters today on 1570-AM in Louisville with Rick Bozich and Jody Demling and offered up the following on our boy, Eric Gordon:
"I think Eric Gordon is very special and NBA scouts think he's special. For some people, the game comes so easy too. (Gordon) is one guy that has the NBA scouts salivating. When the draft comes I'm not sure he'll be the No. 1 pick but I would take him."
If there's a better player in college basketball right now than Gordon, I'd love to see him. He's a unique blend of speed, power and finesse that we may never see again in an Indiana uniform. The NBA mock draft sites are starting to take notice as well. NBAdraft.net recently moved him to the No. 3 slot just behind fellow freshmen Michael Beasley and Derrick Rose.
– ESPN's Dick Vitale announced today via his Web site that he's taking a leave of absence after surgery to have lesions removed from his left vocal cords. Here is a snippet of the press release from the World Wide Leader:
ESPN college basketball analyst Dick Vitale had successful surgery today to treat ulcers on his left vocal chord. Vitale plans to return to the air in early February. He will continue to provide his college basketball observations on ESPN.com and dickvitaleonline.com while he recuperates. Vitale is in his 29th season with ESPN and had never missed a game. The surgery was performed by Dr. Steven Zeitels at Massachusetts General Hospital in Boston.
Say what you will about Vitale, but the man is great for college basketball. He brings an enthusiasm unmatched by anyone and I'm hoping he'll be able to return to the job he loves. Here's hoping for a speedy recovery for you, Dickie V. If you'd like to read more on Vitale, I highly recommend PostmanR's take over at the Postmen.
Filed to: Dick Vitale, Dick Weiss, Eric Gordon, The Zonebusters