Know Thy Opponent: Kentucky Wildcats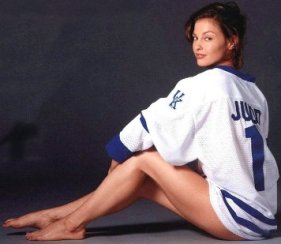 John Clay is a columnist for the Lexington Herald Leader. He covered Kentucky football for 13 seasons before being promoted to columnist in 2000. We recently caught up with him for a special Q & A edition of Know Thy Opponent. Unfortunately, Kentucky's first fan Ashley Judd wasn't available for this edition of Know Thy Opponent.
Inside the Hall: The first thing that comes to mind when you think about Kentucky basketball this season is the change to Billy Gillispie. How is Billy changing the program from the way it was run under Tubby Smith?
John Clay: Gillispie appears to be a tougher and more demanding coach. He ran a "Boot Camp" before the start of drills, he runs full practices the day of games, and he has already benched a couple of players for transgressions. Freshman A.J. Stewart sat the bench the entire game against Stony Brook, then was brought out during the post-game press conference to tell the media he had fallen asleep during a team meeting. Tubby certainly would not have made Stewart face the media as he often did not allow his freshman to speak to the media until at least the second semester. And Tubby probably would not have told the media why the player sat the bench.
ITH: Alex Legion recently announced he was leaving the program and his status now appears to be up in the air. There are rumblings that defections may occur at Kentucky. Do these rumblings have any legs?
JC: I predict we'll see one, maybe two over the Christmas break. Some if it is just the natural fallout when a coach inherits players he didn't recruit, and vice versa. But Gillispie isn't for everybody. And I think the players are finding that out.
ITH: Patrick Patterson is Kentucky's best player so far. What are the strengths and weaknesses of his game? How does he match up with D.J. White?
JC: Patterson is very active, with explosive jumping ability and excellent hands. He has a very good knack around the basket. There have been times this year when it appeared that if Patterson didn't get the rebound, Kentucky didn't get the rebound. The irony is that UK desperately needed a forward just like Patterson the past few years. Now it has one, but doesn't have a center. Patterson's weakness could be foul trouble. He fouled out Saturday against North Carolina, but has logged a lot of minutes. So far, he's been as good, if not better than advertised. I think he should match up well with White, though D.J. may be able to push him around a bit.
ITH: One of the keys to being successful against Indiana is containing Eric Gordon. Not many teams have been able to answer the challenge thus far. How will Kentucky game plan against Gordon and who will draw the assignment of defending him?
JC: Not sure who will get the Gordon assignment. Won't be Crawford. He's not a good defender. Could be Bradley, though often Ramel gets caught up in that game of trying to one-up his opponent. Michael Porter may be UK's most fundamentally sound backcourt defender, but he can't match Gordon's quickness. In other words, this isn't a good matchup for the Cats. Meeks probably would have been the best answer, but he won't play.
ITH: Joe Crawford started slowly this season. Is he working his way into living up to his potential? Do you get the sense he's looking forward to playing against his brother, Jordan?
JC: I think he is looking forward to playing against his brother. He's starting to play better, but shows too many signs of the old Joe. Too many undisciplined drives to the basket. He began the year in Gillispie's doghouse, but seems to be in better favor with the coach than originally.
ITH: What's the future of the Indiana/Kentucky series? Kelvin Sampson recently said he is interested in keeping it going. Is Kentucky interested in keeping it going — and playing at the RCA Dome and Freedom Hall again?
JC: I think Kentucky is interested in keeping it going, but Gillispie is a wild card. His history suggests that he's not crazy about tough non-conference schedules. But I haven't heard any talk that UK wants to discontinue the series.
ITH: Final question. Fill in the blank. Indiana wins the game if … Kentucky wins the game if…
JC: Indiana wins the game if it plays up to its capabilities. Kentucky wins the game if plays beyond its capabilities.
Filed to: John Clay, Kentucky Wildcats