Sampson talks Gordon, Stemler and Southern Illinois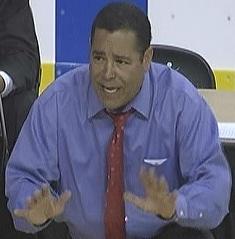 Kelvin Sampson addressed the media Thursday afternoon and here are a few highlights of what he had to say, courtesy of IU Media Relations:
On Eric Gordon's play in comparison to other freshmen he has coached:
"I've never had a freshman as good as Eric. I'm not sure if I've ever had a senior as good as he is either. He is just a prolific scorer. Eric has got to get a lot better in a lot of other areas. His scoring right now is what he is known for, but transition defense, help defense, being more vocal, communicating more. There is not one area of the game defensively that he can't get better in. Those are the areas we're going to continually develop and push our team in along with Eric. I want him to communicate in transition. Like the other night in transition defense, if two guys are guarding one in transition it is usually a communication problem, and those things can be corrected."

On Lance Stemler's performance against Georgia Tech:
"I loved his body language, his confidence. Nobody has worked harder at shooting than Lance. There was a time last year when his shot wasn't falling, and I thought it affected his play. Now, when his shot is not falling, I don't think it affects his play. I think he plays hard-nosed and tough and scrappy, and that is good to see. The other night he played like a senior. I'm proud of D.J. (White) and Lance. You could tell that with Mike (White) the other night. Freshmen can't sit out like he did and come in and play like that. That is where we've been behind the 8-ball a little bit with our experience. Mike played the other night like a senior. I thought Lance and D.J. did as well. They played like veterans."

On what they are going to work on in practice:
"We've got to get ready for Southern Illinois. We broke down the Georgia Tech tape yesterday, made our notes and we'll go over our film. I thought offensively against Georgia Tech we were really good. We did what we try to do. A big part of our team's success is our ability to get to the rim with the dribble. That is what this team does well. We try to get to the free-throw line 25 times. If a team packs in a zone, I doubt we will. We'll just shoot more threes. We are not shooting as many threes because we are driving it. We had 38 free throws the other night. Two free throws is the same as an assist. If EJ (Gordon) is driving the ball and they're not helping off of Armon (Bassett) and everyone is staying at home, I don't want him to pass. I want him to get to the rim and get fouled. The same with Jamarcus (Ellis). I thought Jamarcus the other night really attacked the rim aggressively. If somebody runs at them and takes away their penetration, they'll pass it, and if that guy makes the shot, that will be an assist. A lot of people because of the way Armon has been shooting, they're not helping off of him. They are staying at home on Armon. When Jamarcus drives it they are staying at home on Armon and they're staying at home on EJ, so when he drives it he has to go in strong. He can't drive to pass he has to drive to score. Our ability to get to free-throw line the other night was important. That was the way I felt we could beat Georgia Tech. I didn't feel like they'd guard us as well off the dribble as they guarded screens."

On Southern Illinois' offensive game:
"They're bigger this year. Last year they played the three guards and they played the (Matt) Shaw kid, who I love. I just love that kids toughness and mentality. They're playing him more at the three. They're bigger. Their most valuable player without a doubt is (Bryan) Mullins. You look at their team. Mullins is a three-year starter. Falker is a veteran starter. (Tony) Boyle played a lot last year. You know they are all juniors and seniors. They've got some freshmen that come off of the bench. Boyle is a junior, Shaw is a senior, Falker is a senior, Mullins is a junior. They've got a great system. You watch their game against Mississippi State, they just wore them down with their toughness. The game against Southern Cal was their third game in three days. I wouldn't worry about that score too much. I doubt they are. That is just a November game. Those things happen in November."
You can read a complete transcript of the press conference here.
Filed to: Eric Gordon, Kelvin Sampson, Lance Stemler, Southern Illinois Salukis