Gordon leads Hoosiers in 111-62 rout of Pembroke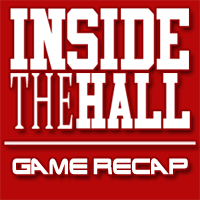 Eric Gordon led six players in double figures with 24 points as No. 9 Indiana rolled past UNC-Pembroke 111-62 Saturday night in Assembly Hall.
Gordon's 24 points all came in the first half before shifting over to play point guard in the second half. Gordon shot 8 of 13 from the field, including 6 of 8 from three-point range, in 29 minutes.
Indiana lost guard Armon Bassett to an ankle injury late in the first half. Bassett left the court grimacing, but returned to the bench in the second half. Bassett finished with 15 points.
Pembroke closed the Indiana lead to seven at 31-24 with six minutes left in the first half before the Hoosiers went on a 21-11 run to lead 52-35 at the break.
Kelvin Sampson was not pleased with his team's defensive effort in the first half.
"We've gotta get better on defense. Sometimes young kids think defense is getting a steal," Sampson said. "We're working hard the first five or ten seconds. We've gotta be disciplined enough to play the whole shot clock."
The Hoosiers came out firing from three-point range in the second half, led by freshman Brandon McGee who scored all of his 18 points in the second half. McGee was 4 of 6 from behind the arc and Indiana hit 18 of 30 three-pointers for 60 percent. The Hoosiers also shot 60 percent from the field and forced 19 turnovers.
Other Hoosiers in double figures included Jamarcus Ellis (15), Jordan Crawford (11) and D.J. White (10).
Indiana will open the regular season on Monday evening against Chattanooga at 7 PM Eastern time. That game will be televised by the Big Ten Network.
Filed to: Armon Bassett, Brandon McGee, Eric Gordon, Kelvin Sampson