Will Kevin Jones join IU's 2008 class?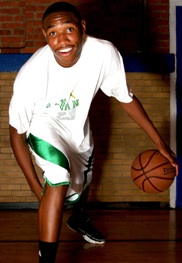 For those of you still sulking at the news of Tyler Zeller's commitment to North Carolina, maybe there's hope for you yet as it relates to IU's 2008 recruiting class. (By the way, if you fall into the aforementioned category, check out this link and scroll to the bottom of the page.)
Kevin Jones, the 6'7″ forward from Mt. Vernon (NY) and the No. 79 player in the 2008 class according to Rivals.com, is still considering the Hoosiers. He'll make a decision sometime before the end of the early signing period on November 21.
His brother Gerard, who is handling his recruitment, offered up the following comments to our good friend Jody Demling of the Louisville Courier-Journal regarding IU's chances:
"They definitely will be considered. Indiana is still very high on Kevin's list of schools. There was a quote from me that was taken a little out of context about the situation that said we were wavering. We're just looking at them closer. Kevin enjoyed the trip there and loved the fans. That's Hoosierland and he loved those fans. But we had to look at it close because it's a big decision. That's not to say they lost any footing. We spoke with Kelvin Sampson and Kevin likes him a lot. We knew Rob Senderoff a lot longer because he's from New York. He got to know our family and the history of the (high school) program. But again that's because he was already from up here. But Kevin likes Coach Sampson a lot."
Shortly after Rob Senderoff's resignation, I had a feeling Senderoff leaving could hurt IU's chances of landing Jones. However, it's encouraging that Kelvin Sampson is picking up right where Senderoff left off.
Also of note, our friends in Columbus (losers last evening to DII powerhouse Findlay) are no longer in the running for Jones because he wasn't ready to give the Buckeyes an answer just yet. This according to Adam Zagoria of the Herald News in New Jersey.
So here is the list of schools still in the running for the Mt. Vernon native, in no particular order: Indiana, West Virginia, Pittsburgh, Massachusetts, Rutgers, St. John's and Seton Hall.
If I had to handicap the race, I'd say IU, West Virginia and Pittsburgh have the best chance of landing Mr. Jones. His addition would propel IU's current recruiting haul into another top 15 class. And more importantly, IU would add a team-first player who is capable of an immediate impact up front.
Previously:
Filed to: Kevin Jones