Game Thread: Indiana 121, North Alabama 76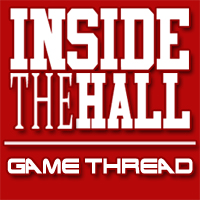 North Alabama @ Indiana (Exhibition)
Sunday, November 4, 2007
Assembly Hall (17,456) – Bloomington, Indiana
TV: Big Ten Network; Radio: IU Radio Network
The Hoosiers open exhibition play with the Lions, a Division II team led by former Kelvin Sampson assistant Bobby Champagne. Champagne is entering his fifth season with North Alabama. North Alabama finished 15-14 last season and returns two back court starters. Quinn Beckwith is their top returning player. The 6'0″, 185 pound guard averaged 15.2 points a year ago and will anchor the North Alabama offense. You can read more about the North Alabama program by clicking here.
As a part of our Game Thread/Live Blog, you're encouraged to share your thoughts on the game in the comments section. For those of you unable to see the game, we'll be providing commentary and feedback throughout the contest.
Indiana 121, North Alabama 76 (final) – Gordon and White are done for the day and Kelvin Sampson is emptying the bench. Ahlfeld is in. Finkelmeier is in. Mike White, however, still hasn't made an appearance. Crawford now has 30 points. McGee shows some touch as he nails a three. Holman gets fouled and throws up a wild shot that goes in. Holman finishes the three-point play. Finkelmeier misses a running three as time expires. Recap coming shortly.
Indiana 113, North Alabama 66 (3:11) – Eric Gordon gets a breakaway dunk and the "Eric Gordon" chants start. Gordon follows it up with another easy layup. He's got 24 points on 10 of 15 shooting. It appears his tooth is chipped, not totally out upon further review. Crawford gets another easy bucket. He's got 24 points as well. Sampson is talking to both McGee and Holman on the bench. Both have looked raw but capable of helping the team. Crawford is fouled on a breakaway and lobs it for Gordon who misses a reverse two handed slam that wouldn't have counted. Plenty of "ooh's" and "ahh's" from the crowd on that play. Kyle Taber makes his first appearance. Still no sign of Mike White.
Indiana 99, North Alabama 62 (7:22) – Gordon returns with a mouthpiece and White quickly finds him cutting to the basket for an easy bucket. Ellis backs that up with a three. Ellis is really starting to assert himself offensively. McGee gets a rebound and put back bucket and hits a foul shot to complete a three-point play. Gordon rifles a pass to McGee underneath who is unable to finish but will go to the line for two free throws. McGee looks solid from the line. Gordon finds McGee once again in transition and he heads to the line once again. McGee has nine points and four rebounds. Gordon buries a NBA range three from the top of the key. DeAndre Thomas has fouled out.
Indiana 84, North Alabama 58 (11:55) – Crawford nails another three. He's on fire. 5 of 5 so far. Make that 6 of 6. He's got 22 points and leaves to a nice round of applause. Bassett follows it up with a layup and a chance for a three point play. Gordon has returned to the bench, but I doubt he'll return. The Hoosiers are easily going to eclipse the 100-point mark. We could see an Adam Ahlfeld appearance.
Indiana 67, North Alabama 50 (15:01) – Jamarcus Ellis shows a nice touch on a floater towards the basket. I really like the versatility of the lefty's game. Gordon took an arm to the face and it looks like he's lost a tooth. He's headed back to the trainer's room to get checked out. Not good. Sloppy start to the second half for IU. The defense is clearly not in mid-season form. Crawford hits another three. He's got 16 points to lead IU.
Indiana 55, North Alabama 39 (halftime) – Sloppy play the last 3:55 of the half allows North Alabama to creep back into the game. Too much dribbling and one-on-one for the Hoosiers. Gordon makes an outstanding defensive play as he pins a ball on the backboard to save an easy layup. Announcers mention that Gordon is working on his off the ball defense. Crawford and Gordon are leading the attack with 13 points each in the first half. White has 11 points, eight rebounds and three blocks. Bassett has 8, Stemler 2, Ellis 3, Thomas 3, McGee 2.
Indiana 47, North Alabama 26 (3:55) – Two dynamic plays for Gordon right out of the break: The first was a breakaway 2 on 1 with Jordan Crawford, the pass was off the mark but Gordon grabbed it left hand and made a layup. Gordon then got a breakaway on his own and finished with a one-handed jam. The latter triggered a 20-second timeout for the Lions. Brandon McGee's first look is a missed three from the corner. Probably not was Coach Sampson was looking for out of the Chicago Crane product. Ellis finds Crawford underneath the basket in traffic for a one handed flush.
Indiana 39, North Alabama 17 (7:46) – Another three for Crawford, this time from about 22 feet. Gordon and White re-enter and Eli Holman makes his first appearance. Ellis shows off a dynamic spin move but is called for a charge as he attacks the basket. White, by the way, is noticeably thinner and in the best shape I've ever seen him. Armon Bassett seems to be struggling a bit on defense, but he's hit a three and converted a three-point play. Holman gets his first chance offensively, but misses a baby hook and comes back and commits a foul on defense.
Indiana 31, North Alabama 15 (11:31) – Jordan Crawford's first play as a Hoosier is one dribble off a pick and a three. DeAndre Thomas is also in the game and he quickly collects a rebound. He's an absolute space eater. Crawford follows up the three with a breakaway dunk. Gordon is 4 of 6 from the field with nine points. Thomas and White are both in the game and Thomas comes to the high post and feeds D.J. with a lob pass for a dunk. Thomas follows that with a layup where the defender tried to take a charge but was knocked to the floor. The rout is on, folks.
Indiana 14, North Alabama 11 (15:41) – Eric Gordon has five points early for the Hoosiers, but they've had some defensive lapses that have allowed the Lions to stay in the game. Everyone's scored early sans Lance Stemler and D.J. has been aggressive thus far down on the block. Coach Sampson is probably not pleased with the defense so far and rightfully so.
Starting Lineups
North Alabama: Quinn Beckwith, Isaac Gray, Kenny Johnson, Thomas Morris, Casey Holt
Indiana: Armon Bassett, Eric Gordon, Jamarcus Ellis, Lance Stemler, D.J. White
Filed to: Exhibition, Live Blogging