Dan Dakich officially joins IU coaching staff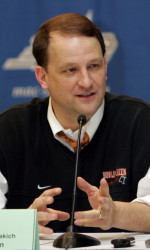 From IU Media Relations:
Bloomington, Indiana – Indiana Men's Basketball Coach Kelvin Sampson announced today Director of Basketball Operations Dan Dakich will return to the bench as an assistant coach for the Hoosiers.

"Dan is someone who can do a lot of things to help our program," Sampson said. "He has been a tremendous asset to our staff and he offers a true sense of what it means to be a part of the Indiana basketball family."

The Indiana native began a 16-year association with the IU program in the fall of 1981 after graduating from Andrean High School in Merrillville. He played for the Hoosiers from 1982-85 and was a team captain during his junior and senior seasons as the Hoosiers finished with an 84-39 record during his career. As a player, he helped Indiana win one Big Ten title, earn three NCAA Tournament berths and finish as the NIT runner-up his senior season. Dakich also spent 12 seasons on the IU coaching staff from 1985-97. Dakich helped the Indiana program win 73.7 percent (283-101) of its games over the 12 years he served as an assistant coach while the Hoosiers were winning over 70 percent of their Big Ten contests. He was a graduate assistant from 1985-87 before being named full-time prior to the 1987-88 campaign.

Prior to returning to IU, he spent 10 seasons as the head coach at Bowling Green State University and posted the third most wins in school history with 156. Along with fellow assistants Ray McCallum and Jeff Meyer, the Hoosiers have a combined 37 years of Division I head coaching experience among the group working with Sampson who is in his 25th year as a head coach.
Filed to: Dan Dakich