Scouting Report: Terrell Holloway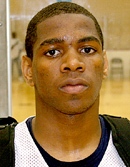 The unfortunate situation with Bud Mackey presented an opportunity for another guard to grab a spot in IU's 2008 recruiting class and Terrell Holloway made a claim to that opening late Monday evening with a verbal to the Hoosiers.
The 6'1″ Holloway, a New York native, was an unknown to most Hoosier fans until a couple of weeks ago when he visited Hoosier Hysteria. Now he's the newest member of the 2008 class.
I spoke with two recruiting experts, Dave Telep of Scout.com and Jody Demling of the Louisville Courier-Journal, to get the scoop on the Cincinnati Harmony guard.
"I think he's a tough little guy," Telep said. "There's a competitive side to him. He's a solid player. In a point guard class that's probably average at best, he's a top 20 talent at that position. He's a guy you would think could come in and provide some relief at that position for them. Maybe eventually he could log minutes as a starter but I think you look at him as a piece to the puzzle."
Demling, who saw Holloway once over the summer, told me that Holloway could use some work on his shot, but that he's very quick and that he likes to make things happen.
My take on the Holloway commitment is that the Hoosiers had a need for a guard in the 2008 class due to Mackey's situation and went with the best available talent. Holloway probably won't make an immediate impact, but he will be a solid backup at his position when he arrives in Bloomington.
Filed to: Terrell Holloway