Plenty of questions remain unanswered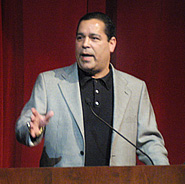 The list of questions that still need to be answered regarding Kelvin Sampson's latest phone call fiasco is a substantial one. What was supposed to be the most anticipated Indiana basketball season since the early 90's now has, as Indy Star beat reporter Terry Hutchens called it, a dark gray cloud hanging above. Instead of answering questions about D.J. White's draft stock and Eric Gordon's quest to become player of the year in the Big Ten as a freshman, the focus has shifted to Kelvin Sampson and whether he is the right man to lead IU. Let's examine that and two other burning questions.
– Is Kelvin Sampson the right coach for Indiana?
A week ago, I would have given you a definitive answer of yes. Today, I would still say yes, but with far less conviction. There is no question that Sampson is a great coach. He gets the most out of his players and kids really want to play hard for him. However, the pristine image Indiana basketball fans have of their program is not being upheld and that's the major sticking point for Sampson. He's been at the helm for 18 months after making a promise that his problems at Oklahoma were behind him and he's let us all down. Can the trust be restored? Or have too many fans already written him off? The best thing Sampson can do is win, win and then win some more. Winning won't make everyone forget what he's done, but it will be a temporary band aid to ease the pain.
– Who's responsible: The school's compliance department or the coaching staff?
Both parties are responsible. The compliance department should be blamed for not having more strict procedures in place to monitor phone records. Thorough monthly checks should have taken place. It was naive to assume a problem like this wouldn't happen again. The coaching staff should be blamed for not adhering to the rules. The "we didn't know" argument doesn't fly with me. You knew. You just chose not to follow the rules. It's that simple. Mike DeCourcy of the Sporting News has an excellent take on this question:
That's what's so disappointing about what occurred here. That's why it's so disappointing it was allowed to occur. Even though Sampson's hiring was controversial because of previous phone call violations at Oklahoma, mistakes that were made early in his IU tenure were not flagged until more than a year after he took the job. Given the record that followed him from Oklahoma to Indiana, Sampson should have been insisting on monthly audits of the program's phone logs. Failing that, Indiana should have insisted for him.
What was IU's compliance office doing all that time? Ordering pizza? The excessive and impermissible phone calls this time did not approach the 577 number that became tattooed onto Sampson's OU legacy. But there might have been almost none if some clerical oversights had been caught earlier and the program's vigilance increased. No one charged with operating or overseeing Indiana basketball understands what it's going to take to make it right, make it whole again.
– What will the NCAA do?
This is the million dollar question. If the words "postseason ban" come out of this whole fiasco, Sampson and staff will be cleaning out their offices. That scenario would trigger an immediate termination of the staff and most likely, AD Rick Greenspan. After all, Greenspan stuck his neck out there and hired Sampson despite his problems at Oklahoma. The NCAA is not likely to rule on this situation in the immediate future. IU is taking the public stance that their self-imposed penalties are strong enough. In most cases, I would agree. However, the fact that some of these phone calls took place during a time where sanctions were already being enforced on Sampson could open the possibility of more severe punishments. Ultimately, the result will likely end somewhere in the middle.
I'm interesting in hearing your thoughts on all three of these questions. Is Kelvin Sampson the right coach for Indiana? Who's responsible: The compliance department or the coaching staff? What will the NCAA do?
Filed to: Kelvin Sampson, NCAA allegations