Van Treese talks Hoosier Hysteria, upcoming season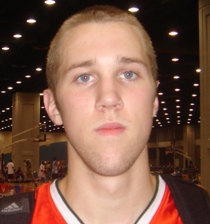 Stephan Van Treese, a junior at Lawrence North, is one of the top players in the class of 2009. The list of schools in pursuit of him is basically a "who's who" of college basketball. Indiana, Kentucky, Louisville, Ohio State, Notre Dame, Purdue and UCLA all have offered. Florida, North Carolina, Wake Forest, Michigan State and Wisconsin are interested. We recently caught up with Van Treese who is now 100 percent following a battle with mononucleosis last year and a knee problem over the summer. Here's what he had to say on a variety of topics:
Inside the Hall: What kind of expectations do you and your teammates have for the upcoming year at Lawrence North?
Stephan Van Treese: I don't see us losing a game unless we beat ourselves. I think we'll be one of the top teams in the state. I just want to win state and I think everybody on the team wants to.
ITH: Along with Jeff Robinson and Dominique Ferguson, Lawrence North might have the best frontcourt in the state. Talk a little about both of those guys and what they bring as teammates.
SVT: They take pressure off of me because they're just as tall as I am. Ferguson, he plays more of a three position and he can step out and hit the three and so can Robinson. They're both extra long, freakishly long. Jeff's wingspan is 7'3″ and Dominique's is 7'5″. They're both pretty quick. I'm pretty excited about this season.
ITH: Two seasons ago you played with Greg Oden and Mike Conley. What did you learn from those guys?
SVT: I learned what hard work can get you. They'd come in for morning workouts and everything. I just watched what they did to prepare for the season and then what they did during the season. I just learned how to be a better player from them.
ITH: What areas of your game are you looking to improve the most right now?
SVT: My ball handling and my jumpshot. Recently my jumpshot has been doing really well. Also my perimeter defense.
ITH: You visited IU this past weekend for Hoosier Hysteria. Talk a little about the atmosphere at Assembly Hall and how your visit went.
SVT: The atmosphere was great. I kind of already expected it just being down there from last year when EJ (Eric Gordon) first committed. I was excited to see how the fans reacted to EJ this year and see his dunks. I had fun and I'm pretty sure all the recruits had a lot of fun.
ITH: How are you going to go about making your decision?
SVT: This year I'm going to watch the teams on TV a lot. Tomorrow I'm leaving for North Carolina to see North Carolina and Wake Forest. I'm just going to visit and look at the coaches and their styles and stuff like that.
ITH: Do you ever look at the recruiting rankings on various websites (Scout, Rivals) and do you even worry it? How do you approach that?
SVT: Every once in a while I'll look at them, but other people tell me a bunch. People at school tell me.
ITH: Does the recent news regarding Indiana have any effect on your interest?
SVT: Not really. The only way it would effect me is, like the tourney, if they wouldn't be able to go to the tournament or something like that.
Filed to: Stephan Van Treese