Hoosier Hysteria kicks off the season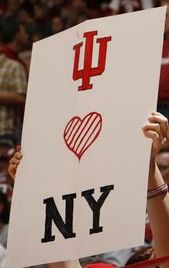 Nearly 13,000 fans packed Assembly Hall Friday night to kick off what many of us hope will be a season that leads to San Antonio. In short, here's what we learned:
DeAndre Thomas should be given a big hand. The man has dropped 58 pounds since arriving in Bloomington and his ultimate goal is 275. Amazing.
Expect a lot of "Er-ic Gor-don" chants this season.
Armon Bassett can shoot the rock. He knocked off Gordon to win the three-point contest. But don't be fooled, Armon said he thinks Gordon will lead the Big Ten in scoring this season.
Jordan Crawford is an athletic freak and can jump over a ball rack with ease.
The Hoosier fans love NY area recruits. A prominent sign appeared in the Hall that said "IU loves NY" and had the names of Lance Stephenson, Dexter Strickland and Kevin Jones.
Eli Holman is good to go and we heard it straight from the mouth of Kelvin Sampson.
I'm interested in hearing your thoughts from Hoosier Hysteria. Which player impressed you the most during the 10-minute scrimmage? Which recruit seemed to be having the best time? What are your thoughts on DeAndre Thomas and his new slimmed down physique?
Thanks to ITH reader Robert who took this video of Jordan Crawford's dunk that won the slam dunk contest:
(Note: The Big Ten Network has some video from Hoosier Hysteria that you can check out by clicking here.)
And finally, here are a few links from around the Web for more Hysteria coverage:
– Indiana basketball puts on a show {Indy Star}
– A detailed recap of the evening's festivities {The Hoosier Scoop}
– Hysteria tips off season for Hoosiers {IUHoosiers.com}
Filed to: Hoosier Hysteria, link dump