There's no place like home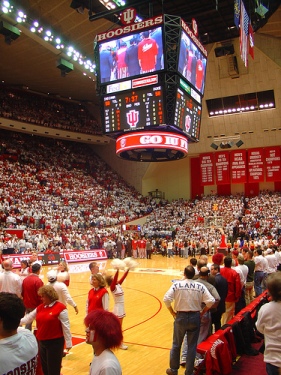 One of the story lines that I'll be watching closely is the 17-game home court winning streak that the Hoosiers will take into the 2007-2008 campaign.
My interest in this statistic was piqued by my co-worker, who is a huge Kentucky fan. In his defense, he's the only tolerable UK fan I've ever encountered. I know, that's a shocking revelation, but for those of you who are forced to deal with obnoxious fans of other programs, there's hope for you yet.
We like to talk hoops frequently and he's convinced that UK is going to come into Assembly Hall with a new coach, a mediocre front line led by a freshman and walk away with a victory. My initial reaction was to tell him that we don't lose home games. Then to back up my claim and out of curiosity, I looked deeper into the numbers and found that our current streak ranks 10th in the nation.
Among the notable streaks ahead of IU are Memphis at 32, Ohio St. at 25, Wisconsin at 22, Notre Dame and UCLA at 20 and Florida at 19.
One of the many things that really irked me about the Mike Davis era is the amount of games that were lost at home. Programs with a home court advantage like IU has at Assembly Hall just shouldn't lose home games. Anyway you slice it, losing at home is not acceptable.
That's one of the encouraging things about last season and the direction of the program under Coach Sampson. IU was 15-0 at home last season and most of the games weren't close. I'm expecting similar results moving forward and especially on December 8. After all, nothing will be sweeter than a 3-hour ride home for the Wildcats with their tails tucked between their legs.
Filed to: Assembly Hall, Home court winning streak, Kelvin Sampson, Mike Davis