Bud Mackey tidbit and Bill Lynch on the Zonebusters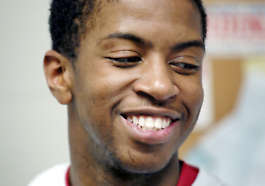 – There was an interesting piece from our good friend Jody Demling's blog regarding 2008 recruit Bud Mackey earlier today that caught my eye. Rick Bolus, best known for his "blue chip" basketball camps he's held since 1980, has ranked Mackey as the top player in Kentucky's 2008 class.
Most national recruiting services rank Mackey below Mason County and UK recruit Darius Miller as well as University Heights and Mississippi St. recruit Scott Hopson.
That's not the case with Bolus and I'm guessing a lot of that has to do with the fact that Mackey was the best player on the best team in the state last year. I'm really not sure if Bud is the best of the three players, but it makes for an interesting debate nonetheless.
– A quick note: IU football coach Bill Lynch will appear Wednesday just after 2 p.m. on a new Louisville based radio show with Demling and Courier-Journal Sports Columnist Rick Bozich called the Zonebusters. Those of you in the Louisville area can hear the show on 1570 AM and for those of you who are out of the area, you can stream the show at 1570thezone.com.
Filed to: Bill Lynch, Bud Mackey, Darius Miller, Jody Demling, Rick Bozich, Scotty Hopson