Bruuuuce loses an assistant and a recruit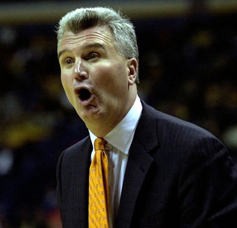 Under the category of "I'm glad that didn't happen to IU" comes the news that Mason County (KY) wing Darius Miller has committed to Kentucky.
Miller had been heavily recruited by Illinois and their former assistant coach, Tracy Webster. At one point there were rumors that Illinois was leading for Miller.
However, a funny thing happened this week when Kentucky coach Billy Gillispie poached Webster from the Illini and then received a verbal commitment from Miller just two days later.
Our good friend Jody Demling from the Louisville Courier-Journal breaks it down:
His commitment comes just two days after news broke that UK is planning to hire former Illinois coach Tracy Webster as its third assistant coach. Webster was a key factor in Miller's interest in Illinois until recent weeks.
"I think that was a factor," Brian Miller said. "But also he really liked and felt comfortable with Gillispie and his staff. He just felt very comfortable."
So yeah, not only is Bruce losing major recruits left and right, he's now losing assistant coaches. Is there any doubt that the Illini program is full blown Titanic mode?
Filed to: Billy Gillispie, Bruce Weber, Darius Miller, Kentucky Wildcats