Preseason: Where will you rank the Hoosiers?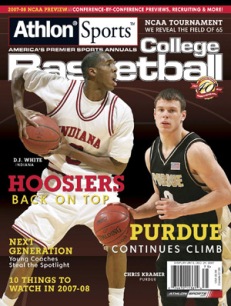 Even though we're still in the first week of September, many publications are already releasing their annual yearbooks for college hoops. For an oddity like myself that really doesn't follow college football or the NFL, this is great news.
Lindy's and Athlon Sports are both on newsstands with several others to follow in the coming weeks.
Lindy's has IU pegged at No. 10 and Athlon Sports has IU headed to the Sweet 16 and champions of the Big Ten. The FanHouse, an AOL Sports Blog, has the Hoosiers at No. 8.
And of course, you've got your early summer rankings also giving props to IU: Jeff Goodman of Fox Sports places the Hoosiers at No. 15, Andy Katz shows the love and slots them in at No. 9 and Garry Parrish of CBS Sports pencils in IU as the 11th best team in the land.
All of this, in reality, means nothing. It'll all be sorted out on the court come March (take a hint BCS supporters, get a playoff!). However, it does create plenty of opportunities for discussion amongst all of us, the fan base.
So that's where you come in: Where will you rank the Hoosiers and why? I'm interested in hearing your thoughts.
Filed to: Athlon Sports, Lindys, Mainstream Media