Hoosiers roll again in Bahamas, 103-41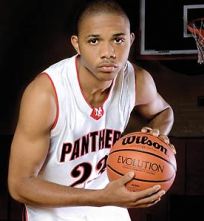 For the second straight day, IU dominated another over matched opponent, throttling Guatemala 103-41 at Kendal Isaacs Stadium in Nassau.
Eric Gordon was impressive as usual, scoring 33 points in 28 minutes of action. Perhaps more importantly, Gordon added five rebounds, five assists and six steals.
It was never much of a contest as IU opened the game on a 28-1 run and didn't allow Guatemala to score their first field goal until the 7:40 mark in the second quarter.
You can check out the full boxscore by clicking here.
As you can see by the results from the first two games, the whole purpose of the trip was for the coaching staff to get a chance to have the team practice together and for the newcomers to get as much experience as possible. From a competition standpoint, these exhibitions are offering little to no value.
Additionally, here are a few other recaps from the contest:
– IU's Gordon feels right at home in Nassau game {Louisville Courier-Journal}
– Hoosiers turn up defense on Guatemala {Herald Times, subscription required}
Filed to: Bahamas Trip, Eric Gordon