Hoosiers to tip-off Friday in Bahamas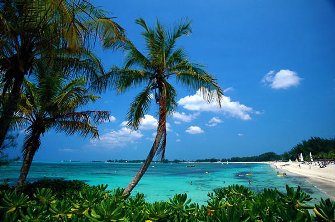 (Update: Read the full release regarding the trip by clicking here.)
Coach Sampson and his 2007-2008 Indiana Men's Basketball team will leave tomorrow afternoon for their trip to the Bahamas.
Here's a look at the scheduled games:
• Friday, Aug. 31: Bahamas Select, 8:30 p.m.
• Saturday, Sept 1: Guatemala, 2 p.m.
• Sunday, Sept. 2: Commonwealth Bank Club, noon
If anyone can give me a scouting report on these teams, please, feel free. The last one sounds like they're from a YMCA league. And in case you're wondering how important these games are to Coach Sampson, here's what he had to say about the trip last week in a press conference:
"I don't think these games are that important. I don't put a lot of value on these games. I'm going to try to let everybody play an equal amount of time if possible. I may even let some of the assistant coaches coach some of the games and I'll sit and watch. There are a lot of different ways to approach this. The value of this is the ten practices, not the games."

"I have no idea who we are playing. I know we are going to play four games. There are probably 50 schools around the country that are doing this during the summer. I know Clemson and Old Dominion and I was told there are going to be five or six teams that are going to be in the Bahamas at the same time we are."

"I want to see the new guys play as much as possible. There is a good chance that D.J. is not going to lead us in minutes down there…I know what he can do. It's probably good that Lance is getting to do this, just to get him some confidence coming off his surgery. The games are what they are. We are going to try to win the games, but the scores are what they are. How we play is more important."

"Our video guys will go down there with us and we will get all of it on film and be able to come back and watch it and point some things out and make some strides from there."
Sadly, myself, E and R will not be making the trip. However, the Herald Times will be making the trip and will have live coverage all weekend, so that will be worth reading if you're into meaningless exhibition games like I am.
Filed to: Bahamas Trip, Kelvin Sampson