Commercial Appeal predicts Angel Garcia to Memphis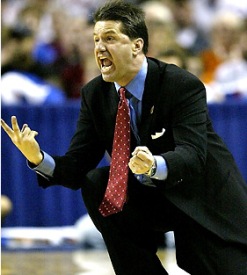 Dan Wolken, the Memphis beat writer for the Commercial Appeal, looked into his "crystal ball" with seven fearless predictions for the upcoming hoops season. The first item, in particular, caught my eye:
1. Forward Angel Garcia will commit to Memphis in the next few weeks: The talented 6-11 Puerto Rican told Rivals.com is deciding between the Tigers and Indiana. That's very good news for Memphis, which badly wants Garcia to go along with already committed twins Marcus and Markieff Morris from Philadelphia. The Tigers are a better fit for Garcia's style of play — similar to Shawne Williams — and have a big edge due to John Calipari's history of developing players for the NBA. It also helps that assistant coach Chuck Martin is of Puerto Rican descent.
Mr. Wolken may end up being correct, but at this point, I'd say it's a total crap shoot on where Garcia ends up. I've always heard that he likes Indiana first and foremost, but I wouldn't count out John Calipari and his hair gel.
And I don't buy the fact that having an assistant coach with Puerto Rican descent will end up making much of a difference, but hey, I could be totally off base. By my estimation it comes down to the tradition of the program, the coach, the facilities, the atmosphere around the campus and the style of play. What Memphis and IU have to offer are both very different.
It'll be interesting to watch Garcia's recruitment unfold over the next couple of weeks.
Filed to: Angel Garcia, John Calipari, Memphis Tigers