Jamar Smith (convicted felon) will redshirt and stay with Illini program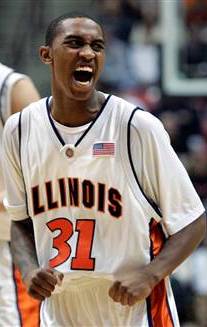 Jamar Smith, whom you may remember nearly killed a teammate in a drunk driving accident earlier this year, will remain with the Illinois basketball program. Smith will redshirt the 2007-2008 season and will be allowed to return to the team in 2008-2009.
Here is what our favorite coach, Bruce Weber, had to say about the situation:
"Jamar Smith has had a productive summer. He's in the process of meeting his legal obligations while continuing to work on his personal issues. We feel it's in Jamar's best interest that he sit out the 2007-08 season and take a redshirt year. We'll continue to monitor his progress. If all obligations are met, he'll return to competition for the 2008-09 season."
So rather than doing the right thing by cutting all ties with Smith, Weber will allow him to sit out a year and retain his remaining eligibility. Makes complete sense to me.
The last time I checked, playing college basketball is more of a privilege than a right. However, this decision just screams of desperation by Weber to keep a talented player around.
Smith pleaded guilty to drunk driving and nearly killed teammate Brian Carlwell. To make matters worse, he left the scene of the accident with a seriously injured Carlwell in the car. If that isn't enough to kick him to the curb, I'm not sure what is.
I'm sure a lot of Illinois fans will try to justify this by claiming that Smith is a kid who made a mistake and he deserves a second chance. He might deserve a second chance, but it shouldn't be at Illinois. Hasn't he already left a large enough stain on your program?
Filed to: Brian Carlwell, Bruce Weber, convicted felon, Jamar Smith