Angel Garcia down to two: IU and Memphis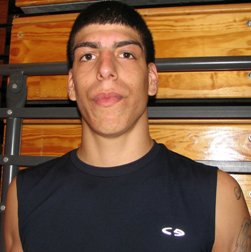 After spending much of his summer practicing and then competing in the FIBA U-19 World Championships for the Puerto Rico national team, East Chicago big man Angel Garcia has narrowed his list of schools to two: Indiana and Memphis.
There was speculation that Garcia could end up at Florida or Louisville, but according to his AAU coach, both of those schools have been eliminated, per Jerry Meyer of Rivals.com (subscription required).
"It's down to Indiana and Memphis," said CAPS All Stars coach Eric Cole. "They have both been with him the longest and even watched him in Serbia. Angel really appreciated that. Those two schools worked the hardest to recruit him."
I've really got no idea where Garcia will end up, but I've heard from various sources since last winter that Indiana is the school to beat for Garcia. The only concern seems to be with his academics. Will Garcia have the necessary coursework completed to be a freshman in the fall of 2008?
If Coach Sampson and staff are able to add Garcia to the already assembled group of Ebanks, Mackey and Roth, we're going to be looking at a second straight top five class. Throw in the fact that Tyler Zeller is also a possibility and the future is looking mighty bright in Bloomington.
Filed to: Angel Garcia