Draft Express not impressed with Eric Gordon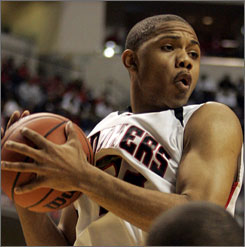 Normally, I would have been all over this when it was first released, but with the recruit games and other things going on throughout the past week, it got pushed to the back burner.
DraftExpress, not exactly the Marty Blake of NBA scouting, watched and then critiqued our boy Eric Gordon at the Adidas Nations Basketball Experience last weekend. I'm not sure if they had EJ confused with another player because they were obviously misguided with their comments. Here's the proof:
Eric Gordon has also been fairly disappointing so far. From what we can see here, there is going to be a certain transition for him that needs to be made to adjusting to the higher level of competition he'll face in the NCAA. He got way too caught up in his own offense, over-dribbling, taking bad shots and running into brick walls with his head down. He didn't even try to read the defenses, relying excessively on his fantastic athleticism to bail him out instead of playing within the flow of the offense and taking what his defenders gave him. He seems to be still playing AAU basketball while everyone around him is playing like they do in college. Gordon's ball-handling ability still isn't where it needs to be to take full advantage of his strength and explosiveness. He pounds the ball incredibly hard on the floor, exposing his dribble a bit higher than you would hope.
That's funny, because just a couple of nights before, I saw Mr. Gordon play at New Albany High School. And I'm pretty sure he was by far the best player on the court like he has been every time I've seen him play.
I also distinctly remember talking to other members of the media who were at that game, one of whom told me with confidence that Gordon was the best high school player he'd seen all year.
Furthermore, DraftExpress still thinks highly enough of EJ to have him as their No. 9 selection in their 2008 Mock Draft. If they're projecting him that high and still ripping him that badly, I'd hate to see what they have to say about those they have pegged after Gordon.
So go ahead, feel free to send nasty e-mails to DraftExpress. Just don't tell them I sent you.
Filed to: DraftExpress.com, Eric Gordon