Bud Mackey loves Indiana University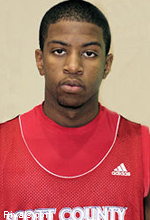 Hoopsreport.com, a site I'd never heard of until today, has an interview with 2008 recruit Bud Mackey. The interview is not bad, sans the question to Mackey asking him what it was like growing up in Kentucky. Since Bud didn't grow up in Kentucky, I'm not sure he knows what it's like, but I'll try to look past that.
Anyhow, here are a few highlights from the interview:
HoopsReport.com: When you gave IU a verbal toward the end of last year what were some of your biggest reasons for choosing the Hoosiers?
Mackey: You know, I love IU. It's a great place and I thought that it was the best fit for me.
HoopsReport.com: There have been a lot of rumors about how strong your commitment is to IU and that your home state school, Kentucky, is trying to test that commitment. Talk about how solid you are with Indiana.
Mackey: The rumors you hear are not true. I will never change my commitment. I'm 100% IU.
HoopsReport.com: What is Coach Sampson (IU) like?
Mackey: He is the most positive guy in the world. Very smart and he reminds me of my grandfather.
Bud goes on to talk about how he's a better shooter than Rajon Rondo (who isn't?), his favorite shoe company and he even gives a shout out to his family. I'd recommend giving it a look because Mackey is one of those guys that hasn't been on the national radar for very long and we're all still getting familiar with him.
From all accounts, he's a great kid who will bring a lot to the IU program upon his arrival in Bloomington. I'm planning to check him out a couple of times this season when he suits up for Scott County and at that point, I'll give you my thoughts on his game.
Filed to: Bud Mackey, Kelvin Sampson