Seth Davis sings the praises of Devin Ebanks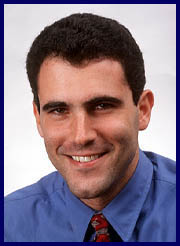 If you think clicking on a national writer's column and reading a fawning take on a soon-to-be Hoosier is ever going to get old, well, you're wrong. The latest props for an incoming IU recruit? Seth Davis' take on Devin Ebanks, IU's top 2008 get:
Skinny: Every kid growing up in Queens dreams of playing his college ball in … Bloomington, Indiana? That's where Ebanks is headed next season, and the Hoosiers faithful will love what they're getting. Ebanks reminds me of a young Rudy Gay, but mentally he's ahead of where Gay was at this point. For example, the gold medal game at the USA Basketball Festival tipped off at 8:30 in the morning. Most of the players were barely awake when the game began, but Ebanks put himself through a hard warmup routine (he listened to an iPod as he went through the paces) and was the only guy ready to go when play started. As IU coach Kelvin Sampson likes to say, that shows he's got a little mud in his blood.
Ain't it great? Attracting top talent is one thing. Getting kids like Eric Gordon and Ebanks, players who seem to care every bit as much about intense self-improvement as their coach, well, what more can you ask for? Put your crimson shades on — that future is awfully bright.
Filed to: Devin Ebanks, Eric Gordon, Kelvin Sampson, Seth Davis, SI.com