Jones speaks on his recruitment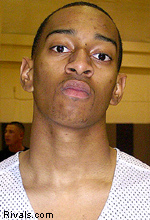 Yesterday, we heard comments from Eshaunte Jones' AAU coach, Eric Vaughn, regarding a decision made by Jones to de-commit from Indiana and evaluate his options.
In a story by Greg Jones in today's Ft. Wayne Journal Gazette, Jones spoke out on his decision to evaluate his options and why he made it:
"It wasn't the Indiana coaches or anything," Jones told the Herald-Times. "I still like them a lot. I just thought I needed to look at other schools. I felt like I hadn't really taken the time to make the decision."
Expect Jones to look the hardest at Cincinnati, UCLA and Missouri, three schools that were in the mix for him before he committed to Indiana back in November. Vaughn also mentioned that Illinois, Miami (FL) and Tennessee could get involved.
As far as the effect this will have on the 2008 class for Indiana, don't expect it to be significant if Jones does indeed end up elsewhere. The Hoosiers are loaded with guards for this season (Eric Gordon, Armon Bassett, Jamarcus Ellis, A.J. Ratliff and Jordan Crawford) and have top 40 recruit Bud Mackey already on board for 2008.
You never like to lose an in-state kid, particularly one that is a great scorer like Jones, but expect the Hoosiers to ramp up their efforts to land point guard Dashan Harris, who already has an IU offer and would fit in well with Mackey and Devin Ebanks in the 2008 class.
Filed to: Bud Mackey, Dashan Harris, Devin Ebanks, Eshaunte Jones