Draymond Green ready to decide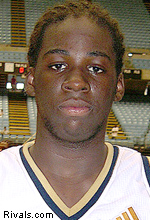 Draymond Green, a top 100 recruit in the 2008 class, will announce his college decision Thursday. Green, a 6'7″ power forward from Saginaw, Michigan, has narrowed his possible destinations to Michigan State, Michigan and Indiana.
Green originally committed to Kentucky, but after Tubby Smith left, Green re-opened his recruitment.
In today's Detroit News, Green's coach Lou Dawkins talked about the upcoming announcement:
"These are the schools who have been after him the hardest," Dawkins said. "By (tonight) he'll decide. If not, then he might make it when he wakes up Thursday."
Dawkins also added that Green may take an unofficial visit to Michigan later today. I'm no expert, but from my experience, the school with the last visit generally lands the recruit.
If I had to make a prediction, I'd say IU is running a distant third for Green's services. While they would gladly take Green, they are aiming for bigger fish to fill out the 2008 class.
Updated: Green picks Michigan State
Filed to: Draymond Green, Michigan State Spartans, Michigan Wolverines