Class of 2025 five-star prospect Jalen Haralson thriving on Nike EYBL circuit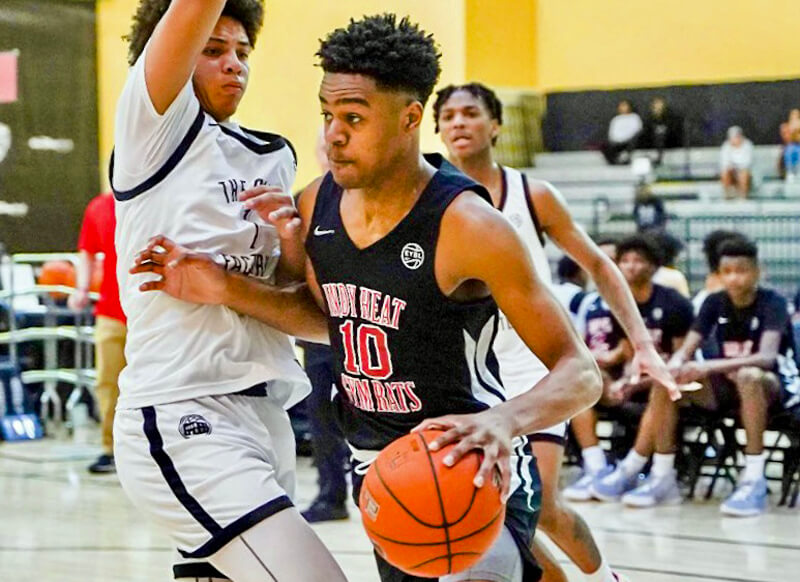 Receiving a Division I offer at the age of 14 can be a little surprising — even for a player like Jalen Haralson.
The Fishers High School phenom, who turned 15 at the end of April, more than held his own against the top players in Indiana during his freshman season with the Tigers.
Now, Haralson is doing so against some of the best prospects in the country.
The 6-foot-7 point guard, who is playing up on Indy Heat's 16U Gym Rats squad, is gearing up for the third session of the Nike EYBL circuit, which is set for May 27-30 in Louisville, Ky. Haralson made a splash during the first two sessions, showing why he is one of the premier players in the entire 2025 class.
The sophomore-to-be is the No. 1 prospect in Indiana for 2025, according to Prep Hoops Indiana. And nationally, Haralson is No. 13 among all players, according to ESPN.
"I think I am playing well now, my first (EYBL) session was kind of tough," Haralson said. "But my second session, I averaged 19 (points) and 10 (rebounds). I am still getting used to the circuit and playing up. There is more talent (than the high school season) but teams do not scout you. So, it is a little different. It is fun."
At Fishers, Haralson broke the program's single-game scoring record with 43 points against Carroll on Dec. 21 and finished his debut season averaging 16.0 points, 4.6 rebounds and 1.3 assists while shooting 54 percent from the field (10-for-30 from distance). The Tigers were No. 2 in the final Class 4A poll of the season and finished the year with a 21-3 record after a loss to Westfield in their sectional opener.
After the season, Haralson received Underclass All-State "Supreme 15" honors by the Indiana Basketball Coaches Association (IBCA).
"Coming into the year I wasn't sure how things would go, so I was a little nervous," Haralson said. "I thought I played pretty well overall. It definitely helped having seven experienced seniors to show me the ropes. We had a really tough schedule, which was also a challenge. But I feel I exceeded people's expectations."
Maryland extended an offer to Haralson prior to his first varsity game, which came on October 13 of last year. Indiana got in the mix with an offer one day later. IUPUI and Purdue followed suit in December and January, respectively.
Haralson is familiar with the Hoosiers as his older brother, Brandon, will be a senior at IU in the fall.
"IU likes that I have a great support system around me. That is one of the first things they told me when I talked to them," said Haralson, who also has a younger brother, Jordan, who will be a freshman at Fishers. "I had spoken to them a couple of times but really wasn't expecting an offer (in October). It was a crazy feeling.
"Coach Mike Woodson wants me to become a knock-down shooter and keep working. Those were his main points. They like what I can do with the ball in my hands at my size. It has been fun getting to know everyone in the program. I like all the coaches. They have been very involved with me. They came to my school to watch open gyms a few times, and I continue to talk to them. They have a close staff, for sure."
Haralson said it was "cool" to see a former IU player — Jordan Hulls — recently announced as the program's team and recruiting coordinator.
"My coach told me about him and hopefully I can get to talk to him (when he starts)," Haralson said.
Haralson is playing with another IU target, 2025 forward Trent Sisley of Heritage Hills, on the Gym Rats this offseason. They speak every day and have become great friends, according to Haralson, which is evident by their chemistry on the court. One particular highlight from the Nike EYBL circuit showed Haralson breaking down a defender with a spin move in transition before finding Sisley with a shovel pass near the basket for a dunk.
"We have been battling it out for years on opposite ends of the court," Haralson said. "It has been fun to finally play with him. We are very close on and off the court."
And although he is still young, Haralson has thought about his future in the sport. He said he has every intention of playing at the highest level he can.
"What I can do at my size (makes me elite)," Haralson said. "I have good vision and make the right play… most of the time. I think the game at a high level. Once I get stronger, faster and more athletic it will be scary. My goal is to definitely play at the highest level. I just need to continue putting in work to get there."
Session 4 of the Nike EYBL circuit will take place July 7-10 in Kansas City, Mo. The circuit will conclude with the Peach Jam July 17-24 in Augusta, Ga.
Filed to: Jalen Haralson