Phinisee leads McCutcheon to North Central Conference title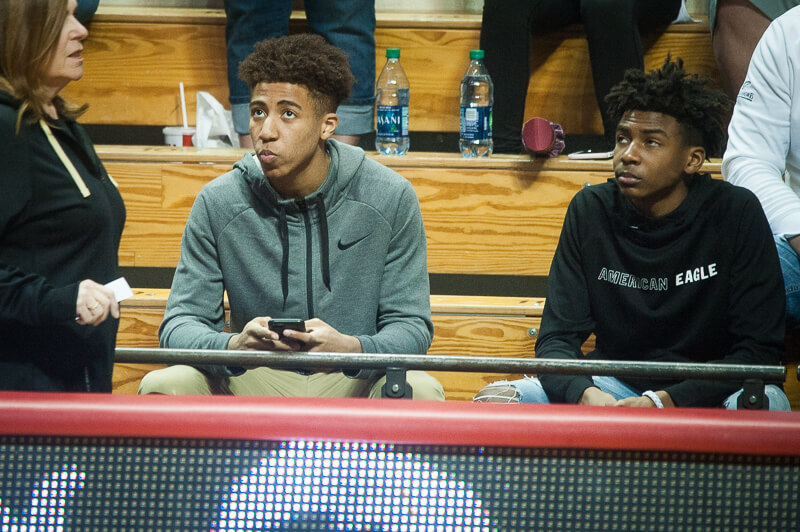 Throughout the season, we'll be keeping track of how Indiana's four class of 2018 signees fare throughout their final high school campaigns. In addition, we'll also be keeping tabs on several key recruiting targets in the class of 2018 and 2019.
Here's our latest update, covering games played the week of Feb. 12-18:
Class of 2018
Robert Phinisee, McCutcheon: Phinisee's dominant senior season continued as he scored 34 points on Feb. 16 in a 70-58 win over Muncie Central. That win wrapped up the North Central Conference title for the Mavericks. He followed that up with 24 points and five assists in a 58-46 win at Indianapolis Arlington on Feb. 17. McCutcheon has won eight straight.
ICYMI: Two days after suffering a broken nose in practice, McCutcheon senior, IU signee Robert Phinisee (@robphinisee1) scored 34 points to pace the Mavericks past Muncie Central 70-58 and finish NCC play undefeated. @mccutcheonmavs pic.twitter.com/TyTl7I4jyB

— Andrew Pogar (@AndrewPogar) February 17, 2018
Damezi Anderson, South Bend Riley: Anderson's team-high 21 points led Riley to an easy 78-25 win at New Prairie on Feb. 16. That win wrapped up the NIC title for Riley. Anderson followed that up with 15 points in a 69-52 win over South Bend Adams on Feb. 17.
Jerome Hunter, Pickerington North (Ohio): Hunter finished with a game-high 15 points, but it wasn't enough as Pickerington North fell 48-42 to Dublin Jerome on senior night on Feb. 13. Pickerington North bounced back with a 79-57 win at Grove City on Feb. 16. Hunter finished with a game-high 18 points.
Jake Forrester, Westtown School (Pa.): Westtown beat Shipley 72-55 on Feb. 17, but no individual stats were available.
Romeo Langford, New Albany: Langford had 25 points in an 80-52 win over Bedford North Lawrence on Feb. 16. His career total is up to 2,805, but his chances at the scoring record are over as New Albany received a bye in the sectional draw.
Class of 2019
Trayce Jackson-Davis, Center Grove: The top 30 forward had 14 points, eight rebounds and three blocked shots in a 41-34 win at Mooresville on Feb. 13. Jackson-Davis had 30 points, 10 rebounds and six assists in Center Grove's 78-67 win over North Central on Feb. 16.
Keion Brooks Jr., Fort Wayne North Side: Brooks finished with 16 points, 14 rebounds, five assists and four blocked shots in an 83-45 win over Fort Wayne Luers on Feb. 16. It was the final regular season game for North Side.
Filed to: Damezi Anderson, Jake Forrester, Jerome Hunter, Keion Brooks Jr., Robert Phinisee, Romeo Langford, Trayce Jackson-Davis