Five takeaways from Indiana's loss at Ohio State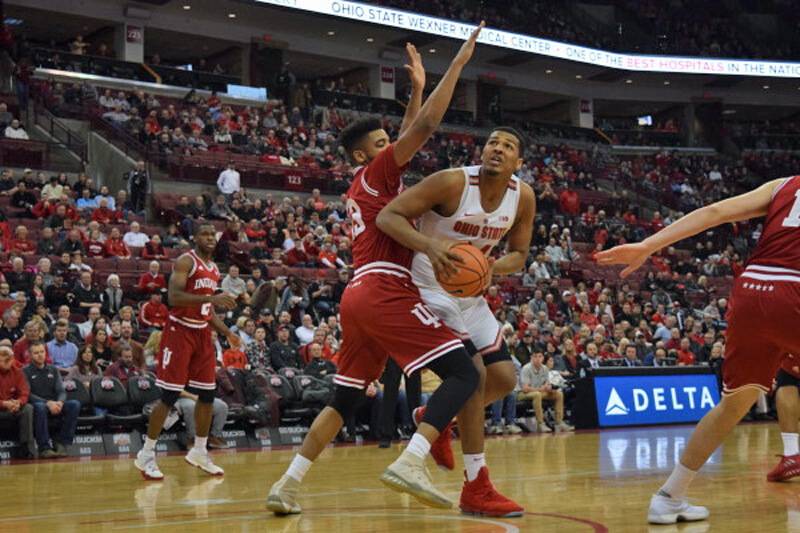 COLUMBUS, Ohio – Indiana fell below .500 in Big Ten play as the Hoosiers fell 71-56 to Ohio State on Tuesday night at Ohio State. It was Indiana's third straight loss.
Here's a look at five takeaways from the loss to the Buckeyes:
· Indiana comes out flat: Blame it on whatever you'd like – a natural letdown after a great effort against Purdue or the brutal schedule finally catching up from a fatigue perspective – but Indiana looked tired on Tuesday night.
Archie Miller made no excuses, but Ohio State coach Chris Holtmann said he thought the Hoosiers looked like they had tired legs. And they did. This was Indiana's fifth game in 12 days and the Hoosiers have two more coming in a three-day stretch beginning Saturday.
"There's no excuses," Miller explained. "We're all going through our different rhythms in the league and this is just one of ours. We have to be able to get through it. You may be low energy at times, but you have to find a way. Good teams find a way to sort of surge back."
One of the unfortunate byproducts of the new Big Ten TV schedule is that games are scheduled every day of the week now. And Indiana has been on the wrong end of several stretches of two games in three days. For a team with limited depth that lacks offensive firepower, it was too much to overcome on Tuesday.
· Green scores a career-high off the bench: Devonte Green logged just four minutes in Sunday's loss against Purdue, but the sophomore guard got an opportunity in Columbus and capitalized.
The Hoosiers got nothing out of Josh Newkirk – he was scoreless in 15 minutes – and Green was excellent in 30 minutes off the bench. He scored a career-high 20 points on 6-of-10 shooting from the field and didn't commit a turnover.
Postgame, Miller said he liked Green's approach in the short turnaround following Purdue.
"I just stuck with it, I would say," Green explained. "I came to practice and competed really hard."
· The game was over in the first 10 minutes: The most eye opening part of Tuesday's loss was how quickly Ohio State put away Indiana.
After the Hoosiers led 5-4 in the game's opening minutes, the Buckeyes pushed their lead to 27-10 midway through the first half. Indiana didn't get within single digits the rest of the way.
"We have to raise our level," Miller said. "Obviously we had a tough turnaround after the Purdue game, but the physicality effort level, the aggressiveness that we needed just wasn't there."
Morgan, who again played heavy minutes (33), acknowledged that the Hoosiers lacked fight early and it ultimately cost them.
"You've got to come out and fight," Morgan explained. "Everybody is playing the same amount of games as we are. We can't go out and play fatigued in the first eight minutes."
· Offense continues to slide in league play: Indiana's defense has remained in the top half of the Big Ten and still sits there after Tuesday's loss, but the Hoosiers are going in the wrong direction offensively.
Indiana has scored over a point per possession just once in its last five games. The Hoosiers are in the bottom five in the conference in 2-point, 3-point and free throw percentage.
Besides Green and Morgan, no other Hoosier scored in double figures in Tuesday's loss.
· The road doesn't get easier from here: Indiana's stretch of seven games in 18 days concludes next Monday with another road game (Rutgers). It's the third straight time the Hoosiers will play on the road with just a one-day break.
But before that happens, Indiana will play its third straight game against one of the Big Ten's top three teams. Michigan State comes to Bloomington on Saturday for a primetime matchup.
Indiana will have to find a way to play better defense in the post after getting punished in the paint for a second straight game.
"It's killing us right now inside," Miller said. "We have to get back to trying to figure a way out. We're getting paralyzed by the sheer size of certain guys."
(Photo credit: Ohio State Athletics)
Filed to: Devonte Green, Juwan Morgan, Ohio State Buckeyes