Romeo Langford's 24 points push New Albany past Bloomington South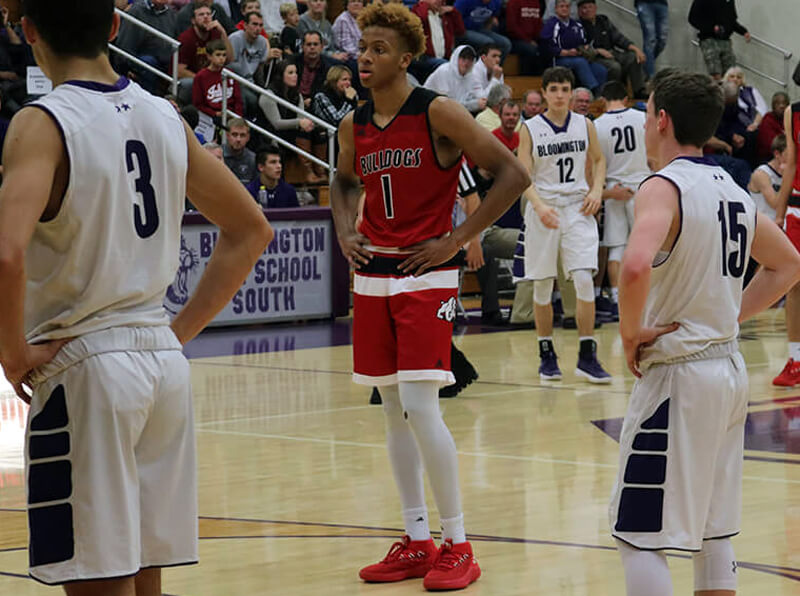 Playing in front of the majority of the current Indiana basketball roster, 2018 five-star guard Romeo Langford scored 24 points to propel No. 1 New Albany to a 70-58 victory at No. 9 Bloomington South on Saturday night.
Langford's 24 points were scored in a variety of ways, from fastbreak layups to contested dunks to swished three-pointers.
The IU target was hounded all game long by Bloomington South, whether it was being constantly double teamed or being on the receiving end of hard fouls, but still managed to lead his team to its second straight win to open the season.
Speaking with the media postgame, New Albany head coach Jim Shannon noted that Langford has been a more vocal leader in his senior season.
"(Langford) has been more vocal in practice and with his teammates trying to get some of the younger guys to understand what's going on out there," Shannon said. "He's just had a really good attitude about his leadership role."
The Bulldogs pulled away late despite a 38-point effort from Bloomington South senior Chance Coyle.
"(Coyle) was extraordinary tonight," Shannon said. "In the other three years he's played against us, he hasn't really hurt us. He played great, and sometimes you just have to tip your hat to somebody. We didn't have an answer for him."
The University of Southern Indiana commit hit contested shot after contested shot, keeping the game close well into the fourth quarter.
"I haven't seen him play like that since middle school," Langford said of Coyle's performance.
After the game, Langford said he was unaware that much of the Indiana roster was in attendance, but noted that he's still in communication with the coaching staff.
Langford also mentioned that he has been speaking with Darius Garland, the five-star point guard that committed to Vanderbilt earlier this month. Since Garland stated his intention to attend Vanderbilt, the Commodores have also received a commitment from five-star forward Simi Shittu.
"(Garland) wants me to go (to Vanderbilt) because now they've got Simi Shittu," Langford said. "He feels like we would be the big three if I go there."
Filed to: Romeo Langford