Five takeaways from Indiana's win over South Florida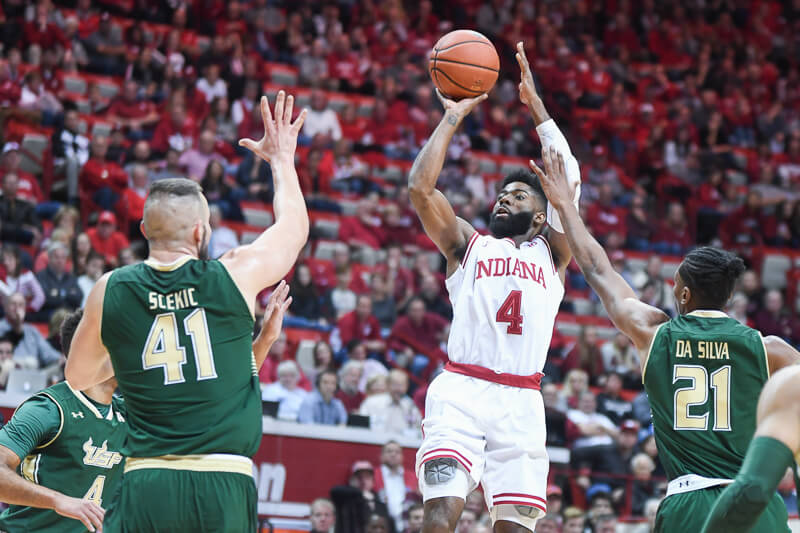 Indiana bounced back from Wednesday's loss at Seton Hall with a 70-53 win over South Florida on Sunday evening in Simon Skjodt Assembly Hall. The victory moved the Hoosiers to 2-2 on the season.
Here's a look at five takeaways from the win over the Bulls:
· Second half surge: Indiana's first half performance was sloppy and as a result, the Hoosiers trailed by one at halftime to a team picked to finish last in the American Athletic Conference.
The second half was a different story as Indiana committed just three turnovers and held South Florida to just 21 points. The ball movement was crisp, the defensive effort solid and the upperclassmen took over.
It was an effort that Indiana should be able to build upon with two more games coming later this week.
"I think definitely we got stops in the second half," Archie Miller said of the performance. "I thought Juwan (Morgan) brought the crowd into the game with his effort. We got some confidence when we made some shots and some plays. It was a deal where we had a deal where we had to keep grinding away, figuring it out. First half, I thought we played pretty hard."
· Morgan leads with effort: Through Indiana's first three games, Juwan Morgan's impact had been minimal.
Morgan came alive on Sunday night and was the best player on the floor in the second half. The junior finished with 15 points, 10 rebounds and four blocked shots in 30 minutes.
His aggressiveness in going to the rim was rewarded with trips to the foul line, where he knocked down nine of 10 attempts. Morgan also had seven offensive rebounds.
"Juwan Morgan, they don't run one play for him," South Florida coach Brian Gregory said. "Not one. All he does is set ball screens and roll. But, you know, he gets a double-double tonight. He plays so hard and he's accepted that role. And, you know what, he's going to make a lot of money doing that role because there's not a lot of guys who will play that hard and do those things."
· Robert Johnson shines on both ends: Although his game-high 21 points is the number that stands out in the box score, Robert Johnson's impact was felt on both ends in Indiana's win.
After Payton Banks went off for 15 points in the first half, Johnson shut him down in the second half. Banks, a grad transfer from Penn State, couldn't shake Johnson in the game's final 20 minutes and scored just three points after the break.
In addition to the stellar defensive effort, Johnson was also efficient offensively as he hit all three of his 3-point attempts and was 6-of-11 on 2s. The senior guard was as aggressive as we've seen him this season in attacking the basket and finished strong at the rim.
· Durham takes the lead at the point: With Josh Newkirk hobbled, freshman Al Durham took on an increased workload on Sunday night and delivered.
Durham played 31 minutes without a turnover and stuffed the stat sheet with nine points, five rebounds, four assists and a steal.
Through four games, Durham's turnover percentage of 6.8 is the lowest on the roster.
"Awesome. He's a terrific player," Miller said. "He's got bright future ahead of him. He's got a great feel. Starting to really trust him. As you can tell he's in there quite a bit, so he's obviously hanging in there on both ends."
· Hartman closing in on return: Redshirt senior Collin Hartman dressed for the first time this season on Sunday and was a full participant in warmups.
Miller didn't specify when he expects Hartman to be available, but didn't rule out a return by the end of this week.
"He's better running. He's better jumping," Miller explained. "Still not 100 percent laterally. I think we'll see where he goes over the next couple of days and Arkansas State, and then you have a day in between. You've got to be careful, two games in three days, you know, with a guy that has a tender groin, especially with the gauntlet that we have coming after this week, just in terms of the amount of teams we play and the quality of the teams that we play."
Filed to: Aljami Durham, Juwan Morgan, Robert Johnson, South Florida Bulls