In 20 hour span, recruiting momentum established in Bloomington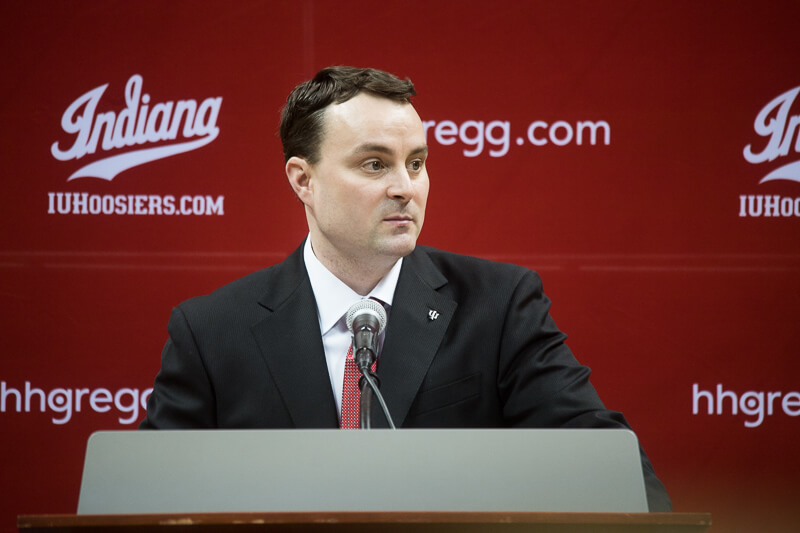 When Archie Miller took the podium on Branch McCracken Court at Simon Skjodt Assembly Hall and was officially introduced as Indiana's head coach back on March 27, recruiting was heavily emphasized in his comments.
But it wasn't a sales pitch nor was it hyperbole or a guarantee of what the future would hold. Instead, Miller was confident and straight forward with the approach that he planned to implement in Bloomington.
"We're going to have a great way about us, and the term that we'll use is called inside-out," Miller explained. "We have to start inside this state of Indiana, and we have to start moving outside very slowly, because the footprint is there."
While acknowledging the importance of connecting with in-state recruits, Miller emphasized recruiting the Big Ten footprint diligently. In a span of 20 hours that began Sunday evening, Indiana fans got their first glimpse of Miller's no nonsense plan delivering results.
Three top 100 prospects – Race Thompson, Jerome Hunter and Damezi Anderson – pledged their commitments to the program.
Start with Thompson, who will join the roster next season, but will use his first season in Bloomington to redshirt. The 6-foot-7 forward said on Sunday that once he started to build a relationship with Miller and associate head coach Tom Ostrom, the decision to commit was an easy one.
"They kept a steady relationship with me," Thompson said. "They're both really easy to talk to. They made the decision easy for me, pretty much. That's something that was key."
Not only was pulling Thompson out of Minnesota a significant recruiting coup, but Indiana will have him on campus for a year learning the system before he ever suits up.
The recruiting news, however, didn't stop with Thompson. Early Monday afternoon, Pickerington North (Ohio) forward Jerome Hunter tweeted his commitment to the Hoosiers.
A top 60 player nationally according to the 247Composite, Miller and Hunter had a preexisting relationship from his time at Dayton. And the IU coach was one of the first coaches to express interest in Hunter, which is something he never forgot.
"Jerome is a really loyal type of guy," Andreas James, the AAU director for Hunter's Ohio Nova program, said Monday. "Archie was one of the first coaches to identify his talent and to talk to him about how he would develop him. So that had a lot to do with it."
Less than two hours later, Miller and the IU coaching staff struck again with the commitment of South Bend Riley forward Damezi Anderson. He'll be the first scholarship player for the Hoosiers from South Bend since Tom Abernethy arrived in 1972.
The four-star prospect was long considered a top target of Purdue, IU's in-state rival, but the Hoosiers quickly became a favorite for Anderson after he visited in June and received a scholarship offer.
"I really liked the visit there and the new coaching staff," Anderson explained. "It's really home for an Indiana kid. My family and I thought it was the best fit (for me)."
The significance of a kid from northern Indiana calling IU home can't be overstated, especially when you consider the program's lack of in-state recruiting success in recent seasons. Indiana produced four top 50 recruits in the 2017 class and none of them are enrolled at IU. Anderson is the first top 100 player from Indiana to pick the Hoosiers since James Blackmon Jr.
But even with a steady recruiting nucleus established, Indiana isn't done recruiting for 2018. Three scholarships are still available and with momentum on its side, Indiana will look to finish out the class strong.
Indiana has jumped head first into the Romeo Langford recruitment and is expected to receive a visit sometime this fall from the five-star shooting guard. If Langford had any questions about the talent that Indiana would be able to surround him with in Bloomington, the coaching staff is beginning to provide answers.
Top 100 McCutcheon point guard Robert Phinisee acknowledged on Tuesday that he took notice of the flurry of commitments and had already spoken to Anderson. The offer to fast-rising Ben Davis forward Aaron Henry is also still on the table. Beyond that, the Hoosiers are also still involved with several top 100 prospects from around the country.
Less than four months into his tenure, it's becoming clear that Miller's approach laid out in late March is more than capable of producing recruiting success.
"You're not going to get every player; you understand that," Miller said in March. "But if we want them, we should have a great chance of getting them because of the commitment level that we're putting forth 24 hours a day at home."
Filed to: Archie Miller, Damezi Anderson, Jerome Hunter, Race Thompson