Big Ten Power Rankings: Post-NBA early entry deadline edition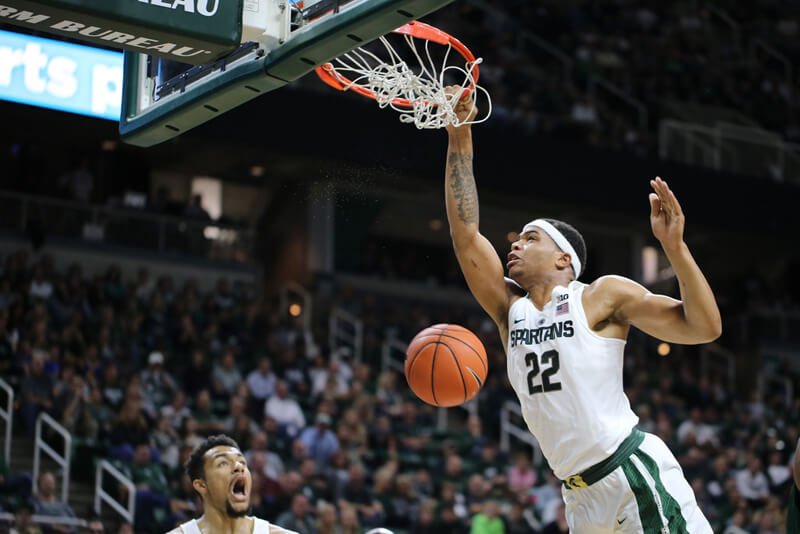 It's late May and more than five months separate us from the opening of the 2016-2017 season, but we just passed a significant offseason milestone on Wednesday. The deadline to withdraw from the NBA draft was Wednesday night at midnight, which means we now have a much clearer picture on who will be on each Big Ten roster.
With that, here's our first stab at forecasting next season's conference standings:
14. Rutgers
· Returning: Corey Sanders, Mike Williams, Deshawn Freeman, Shaquille Dorson, Issa Thiam, Matt Bullock, Candido Sa, Eugene Omoruyi
· Arriving: Souf Mensah, Geo Baker, Peter Kiss (transfer from Quinnipiac, not eligible next season
· Departing: Nigel Johnson (transfer), C.J. Gettys, Ibrahima Diallo (transfer), Jonathan Laurent (transfer)
Outlook: Another year and another projection for the Scarlet Knights to occupy the Big Ten cellar. Rutgers should be improved once again, but the talent level here still isn't good enough to win consistently.
13. Ohio State
· Returning: Keita Bates-Diop, Jae'Sean Tate, Kam Williams, Derek Funderburk, Micah Potter, Andre Wesson, C.J. Jackson
· Declared for NBA draft: Trevor Thompson
· Arriving: Caleb Wesson (247Sports Composite top 100), Braxton Beverly
· Departing: Marc Loving, David Bell (transfer), JaQuan Lyle (quit team)
Outlook: Ohio State appears to be in a free fall. Trevor Thompson left early, JaQuan Lyle quit the team and Darius Bazley, a top 100 recruit in 2018, de-committed recently. The Buckeye faithful have officially grown restless with the direction of the program.
12. Nebraska
· Returning: Glynn Watson, Jack McVeigh, Anton Gill, Malcolm Laws, Isaiah Roby, Jordy Tshimanga, Evan Taylor, James Palmer (Miami transfer becomes eligible)
· Arriving: Isaac Copeland (Georgetown transfer, becomes eligible in December), Nana Akenten, Thomas Allen (247Composite top 100), Duby Okeke (graduate transfer from Winthrop)
· Departing: Tai Webster, Ed Morrow (transfer), Michael Jacobson (transfer), Jeriah Horne (transfer), Nick Fuller (transfer)
Outlook: Nebraska graduated Webster and lost three key contributors to transfer. Still, there might be enough talent here to outperform this projection, depending on what Palmer, Copeland and Allen bring to the table.
11. Illinois
· Returning: Aaron Jordan, Leron Black, Michael Finke, Alex Austin, Te'Jon Lucas, Kipper Nichols
· Arriving: Mark Smith (247Composite top 100), Trent Frazier, DaMonte Williams, Mark Alstork (Wright State graduate transfer, eligible immediately)
· Departing: Malcolm Hill, Maverick Morgan, Jaylon Tate, Mike Thorne, Tracy Abrams, D.J. Williams (transfer), Jalen Coleman-Lands (transfer)
Outlook: There are rumors swirling that Coleman-Lands could transfer to DePaul (confirmed now that Coleman-Lands is seeking to transfer) and the Illini's frontline lacks a true presence. Brad Underwood's debut season in Champaign could face plenty of road bumps.
10. Penn State
· Returning: Shep Garner, Josh Reaves, Julian Moore, Deividas Zemgulis, Mike Watkins, Tony Carr, Lamar Stevens, Nazeer Bostick, Joe Hampton, Satchel Pierce (Virginia Tech transfer becomes eligible)
· Arriving: Trent Buttrick, Jamari Wheeler, John Harrar
· Departing: Terrence Samuel (transfer), Isaiah Washington (transfer), Payton Banks (transfer)
Outlook: The Nittany Lions are still young, but this season is pivotal. Penn State finished in the bottom four of the league standings last season and at some point, Pat Chambers needs to show significant progress.
9. Iowa
· Returning: Ahmad Wagner, Nicholas Baer, Dom Uhl, Brady Ellingson, Christian Williams, Tyler Cook, Cordell Pemsl, Ryan Kriener, Jordan Bohannon, Maishe Dailey, Isaiah Moss
· Arriving: Connor McCaffery (will redshirt, no scholarship), Luka Garza, Jack Nunge
· Departing: Peter Jok, Dale Jones (transfer)
Outlook: Jok is irreplaceable, but Fran McCaffery has a solid stable of young talent, led by Cook and Bohannon. Iowa should improve as the season moves along.
8. Indiana
· Returning: Juwan Morgan, Robert Johnson, Collin Hartman, Josh Newkirk, De'Ron Davis, Devonte Green, Curtis Jones, Zach McRoberts (walk-on), Freddie McSwain, Tim Priller
· Declared for NBA draft: OG Anunoby, James Blackmon Jr., Thomas Bryant
· Arriving: Justin Smith (247Composite top 100), Al Durham Jr., Clifton Moore
· Departing: Grant Gelon (transfer)
Outlook: The Hoosiers return plenty of talent, headlined by Johnson, Hartman, Davis and Morgan. The defense should be improved under Archie Miller, but scoring could be an issue.
7. Maryland
· Returning: Jared Nickens, Justin Jackson, Dion Wiley, Michal Cekovsky, Anthony Cowan, Kevin Huerter, Ivan Bender, Joshua Tomaic
· Declared for NBA draft: Melo Trimble
· Arriving: Bruno Fernando (247Composite top 100), Darryl Morsell (247Composite top 100), Sean Obi (graduate transfer from Duke)
· Departing: Damonte Dodd, Jaylen Brantley (transfer), L.G. Gill, Micah Thomas (transfer)
Outlook: This is a slide backward for the Terps, who finished 12-6 in the league last season. However, Mark Turgeon should have a tournament team once again as the sophomore trio of Jackson, Cowan and Huerter returns to College Park.
6. Wisconsin
· Returning: Ethan Happ, Brevin Pritzl, Charlie Thomas, Alex Illikainen, Khalil Iverson, Andy Van Vliet, Aleem Ford, D'Mitrik Trice
· Arriving: Nathan Reuvers (247Composite top 100), Brad Davison, Kobe King
· Departing: Nigel Hayes, Bronson Koenig, Zak Showalter, Vitto Brown, Jordan Hill (transfer)
Outlook: Happ should contend for Big Ten player of the year, but Hayes and Koenig are huge losses. Wisconsin's streak of finishing top four of the league could be over.
5. Michigan
· Returning: Muhammad-Ali Abdur-Rahkman, Moritz Wagner, Duncan Robinson, Xavier Simpson, Austin Davis, Jon Teske, Ibi Watson, Charles Matthews (Kentucky transfer becomes eligible)
· Declared for NBA draft: D.J. Wilson
· Arriving: Jordan Poole (247Composite top 100), Isaiah Livers, Eli Brooks, Jaaron Simmons (graduate transfer from Ohio)
· Departing: Derrick Walton, Zak Irvin, Mark Donnal (transfer)
Outlook: Much of Michigan's success next season will be tied to Simmons, a graduate transfer from Ohio who averaged 15.9 points and 6.5 assists. If he's a capable fill-in for Walton, the Wolverines will a tournament team once again.
4. Purdue
· Returning: Vincent Edwards, Isaac Haas, Dakota Mathias, Ryan Cline, P.J. Thompson, Jacquil Taylor, Carsen Edwards
· Declared for NBA draft: Caleb Swanigan
· Arriving: Matt Haarms, Nojel Eastern (247Composite top 100), Eden Ewing, Aaron Wheeler, Sasha Stefanovic
· Departing: Spike Albrecht
Outlook: Swanigan is a devastating loss, but the Boilermakers have a solid nucleus returning with Edwards, Haas, Mathias and Thompson. That should be more enough to comfortably return to the tournament.
3. Northwestern
· Returning: Bryant McIntosh, Scottie Lindsey, Vic Law, Dererk Pardon, Gavin Skelly, Jordan Ash, Aaron Falzon, Rapolas Ivanauskas, Barret Benson, Isiah Brown
· Arriving: A.J. Turner (transfer from Boston College, not eligible next season), Anthony Gaines
· Departing: Sanjay Lumpkin, Nathan Taphorn
Outlook: Northwestern made the tournament last season for the first time ever and won a game. The Wildcats should be able to build on last season's success with nearly every notable contributor returning.
2. Minnesota
· Returning: Nate Mason, Amir Coffey, Jordan Murphy, Dupree McBrayer, Bakary Konate, Gaston Diedhiou, Davonte Fitzgerald, Reggie Lynch, Eric Curry, Michael Hurt
· Arriving: Isaiah Washington (247Composite top 100), Jamir Harris, Matz Stockman (transfer from Louisville, not eligible next season)
· Departing: Akeem Springs, Ahmad Gilbert (transfer)
Outlook: Minnesota laid an egg in the NCAA tournament last season, but the Gophers won 24 games a season ago and return their top four players in Mason, Coffey, Murphy and Lynch. It should be another successful season for Richard Pitino.
1. Michigan State
· Returning: Miles Bridges, Cassius Winston, Lourawls Nairn, Nick Ward, Josh Langford, Gavin Schilling, Kenny Goins, Matt McQuaid, Kyle Ahrens, Ben Carter
· Arriving: Jaren Jackson (247Composite top 100), Xavier Tillman (247Composite top 100)
· Departing: Eron Harris, Alvin Ellis, Matt Van Dyk
Outlook: Michigan State is the clearcut favorite in the Big Ten and the league's lone national championship contender. Miles Bridges is a star and Tom Izzo has a roster that could go ten deep.
(Photo credit: Rey Del Rio/Getty Images North America)
Filed to: Big Ten Power Rankings