A statistical look at Archie Miller's Dayton teams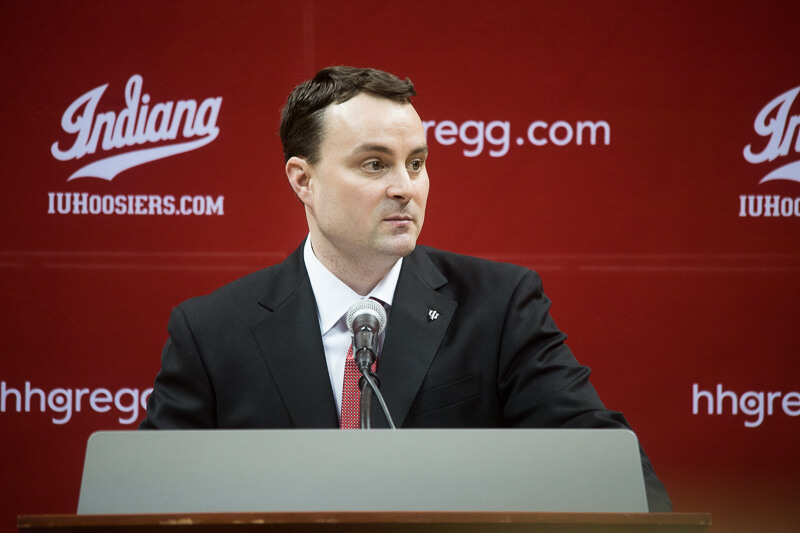 Indiana announced Archie Miller as its 29th coach in program history on Monday afternoon at Simon Skjodt Assembly Hall.
Miller talked at length about the mindset and style of play he plans to implement in Bloomington in his press conference, using "toughness" and "attacking mentality" to describe his philosophy.
A deep statistical dive into Miller's Dayton teams reveals plenty in terms of what fans can expect from his teams in the coming years at Indiana.
First and foremost, Miller's abilities as an offensive coach have probably been understated. In five of his six years at Dayton, his teams posted an adjusted offensive efficiency inside the top 75 nationally, according to Ken Pomeroy. In four of the seasons, the Flyers ranked in the top 53 nationally in adjusted offensive efficiency. These numbers are impressive, particularly without access to five-star talent.
One difference that really jumps out when comparing Dayton's teams to Indiana in recent seasons is getting to the foul line. Over the last three seasons, Dayton ranked in the top 75 nationally in free throw rate (FTA/FGA). In two of those seasons, Dayton was in the top 10 nationally, which confirms Miller's "attacking mentality" statement. Miller's teams strive to be physical and it's a successful formula.
Getting to the foul line was a strength for Tom Crean's Indiana teams in both 2011-12 and 2012-13, but in Crean's final three seasons, IU didn't rank in the top 200 in free throw rate. And when Indiana wasn't hitting from the perimeter, the inability to get to the foul line became a major offensive issue.
The offensive rebounding philosophy for Miller is also much different than Crean's Indiana teams. While his first three Dayton teams all ranked in the top 100 nationally in offensive rebounding percentage, none of his final three Flyer teams ranked in the top 200. Some of it could be personnel based, but the lower offensive rebounding percentage number suggests Miller wants his teams to get back and avoid giving up easy transition points.
One other core offensive difference is the high assist percentage for Miller's teams at Dayton. The Flyers were in the top 60 nationally in assist percentage the last three seasons and twice ranked in the top 30. Dayton didn't play the same uptempo pace that Indiana's teams under Crean played, but getting quality shots in transition was a major emphasis. Dayton ranked in the 68th percentile nationally this past season in transition offensive, according to Synergy Sports, while Indiana was just in the 35th percentile. When Miller's teams get on the run, efficiency is important.
Defensively, Miller's Dayton teams were very good once his system was established. The Flyers ranked in the top 41 in adjusted defensive efficiency in his each of his last three seasons at Dayton, according to Ken Pomeroy.
Dayton ranked in the top 100 the last four seasons in defensive rebounding percentage and this past season, the Flyers ranked in the top 40 nationally in forcing turnovers. In two of the last three seasons, Indiana was outside of the top 300 nationally in forcing turnovers and the points off of turnovers differential was a major storyline of Indiana's downfall this past season.
Miller plays man-to-man exclusively and this past season, the Flyers were in the 81st percentile nationally with their man defense according to Synergy Sports.
Dayton also did a solid job in two of Miller's final three seasons of defending without fouling, ranking in the top 100 in both 2014-15 and 2015-16 in opponent free throw rate.
As was the case with Miller's early Dayton teams, there's likely to be some statistical variation in his early Indiana seasons as the players adjust to his style and Miller adjusts to the personnel he inherited. But his body of work at Dayton confirms that words like "toughness" and "attacking mentality" weren't just buzz words used to win the press conference.
Filed to: Archie Miller