Coaching search profile: Chris Collins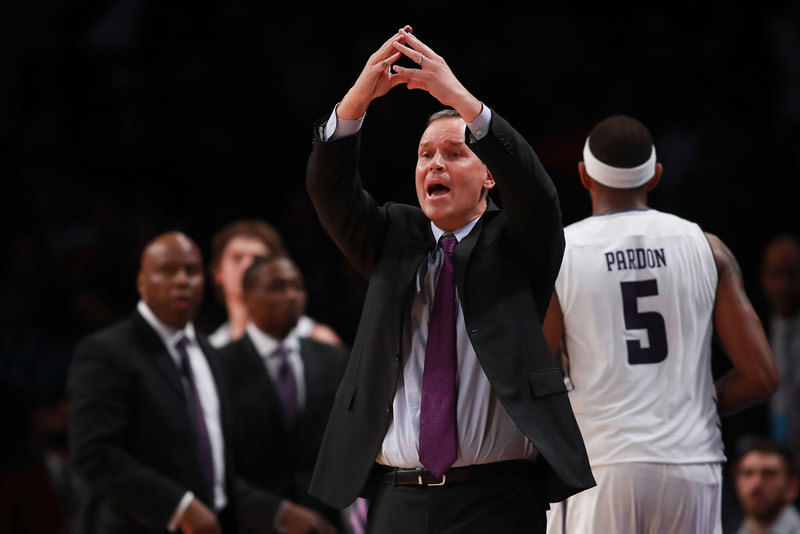 After nine seasons in Bloomington, Tom Crean is out as Indiana's head coach and the search for his replacement is underway.
Inside the Hall will profile some of the candidates who are being discussed for the job over the coming days. Our ninth profile takes a closer look at Northwestern coach Chris Collins.
In his fourth season at the helm in Evanston, Chris Collins took Northwestern to the NCAA tournament. It's a story that won't soon be forgotten.
But how did Collins get to this point?
The son of Doug Collins, a former NBA all-star and coach, Chris is young but a seasoned veteran in coaching. He was a McDonald's All-American who played four seasons at Duke before playing professionally for two seasons in Finland.
It didn't take long for Collins to get the itch to move into coaching. His first stop was as an assistant in the WNBA for the Detroit Shock for a season. From there, Collins got into college coaching with an assistant coaching position at Seton Hall for two seasons. In 2000, he returned to Duke as an assistant coach. He spent 13 seasons in Durham under Mike Krzyzewski before landing the job at Northwestern in the spring of 2013.
Collins was on the bench for two national championships, eight ACC tournament championships and four ACC regular season championships at Duke. The list of players he worked with includes Jason Williams, Mike Dunleavy, Chris Duhon, J.J. Redick, Gerald Henderson, Austin Rivers, Kyrie Irving and Kyle Singler.
At 42 years old, Collins has a bright future ahead of him.
Over four seasons at Northwestern, he's compiled a 73-60 record. In 2016-17, he led the Wildcats to the NCAA tournament round of 32. He's recruited at a very high level compared to previous Northwestern standards, reeling in Bryant McIntosh, Vic Law, Scottie Lindsey and Dererk Pardon, among others. With most its core returning, Northwestern should be a tournament team again next season.
Which brings us to a crossroads in this discussion: Would Collins even consider an in-conference jump to Indiana? Coaches switching positions within a conference is a rarity.
There have been suggestions in the national media that Collins ultimately aspires to coach in the NBA and that he's very comfortable on the sidelines in Evanston. Chicago is home to Collins and with this year's run, he'll be welcome at Northwestern for as long as he wants to be there.
But if he's interested, Collins is certainly a candidate that deserves consideration, for a couple of reasons.
First, he's a midwest guy with roots in Chicago. In Bloomington, his upside on the recruiting trail would be much higher. He has experience recruiting McDonald's All-Americans at Duke and learned from a Hall of Fame coach in Krzyzewski. He has a track record with NBA stars that he can sell. He's young enough to be a long term solution, is familiar with the Big Ten and showed how good of a coach he is by taking a doormat program at Northwestern to heights it hasn't experienced before.
Final Analysis: Collins didn't win Big Ten coach of the year this season, but he was deserving of the honor. Northwestern was an average program, at best, before his arrival and now the Wildcats are thriving despite not having elite talent. Northwestern pushed Gonzaga to the brink in the round of 32 last weekend. With better talent and resources, could Collins build a national power?
Filed to: Chris Collins