Tourney Watch: Home games represent major opportunity for IU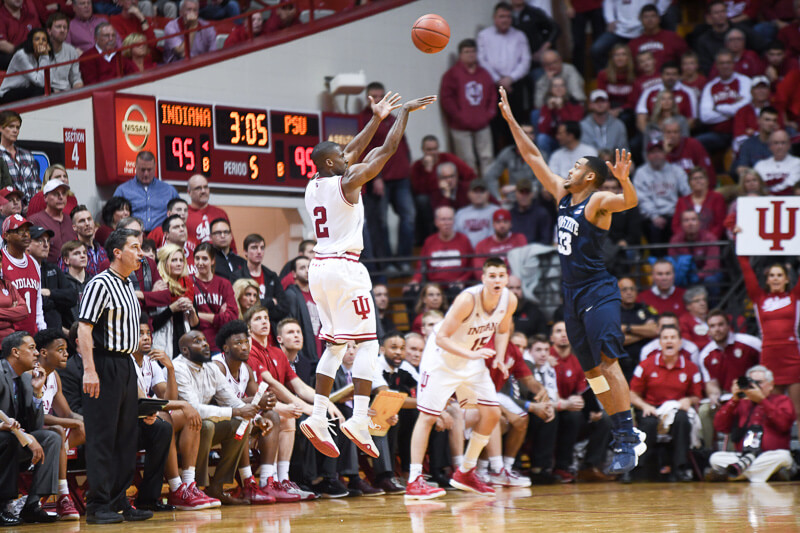 Welcome to "Tourney Watch," our weekly look at Indiana's 2016-2017 NCAA tournament resume.
This week's edition takes a look at last week's performances by the Hoosiers, IU's current nitty gritty profile, bracket projections and much more.
Overview
At 15-9, Indiana already has more losses this season than it did all of last season. Indiana split a pair of games last week as the Hoosiers beat Penn State at home in three overtimes and then fell 65-60 to Wisconsin in Madison.
With seven games to play, the Hoosiers need to go 4-3 the rest of the way to finish at least .500 in conference play. Indiana has two games remaining against Purdue and one against Northwestern, two teams that will both be in the tournament.
This week looms large for Indiana as two of the Hoosiers remaining three home games are Thursday (Purdue) and Sunday (Michigan). A pair of wins could significantly boost the resume while a pair of losses would put the Hoosiers in serious jeopardy of missing the tournament without a major run in the Big Ten tournament.
Nitty Gritty Profile
· Record: 15-9 (5-6 Big Ten)
· RPI: 75 (82 last week)
· SOS: 54 (via CBS) (63 last week)
· Home Record: 13-2
· Away Record: 1-5
· Neutral Court Record: 1-2
· vs. RPI Top 50: 3-6 (via ESPN)
· vs. RPI Top 51-100: 3-2 (via ESPN)
Bracket projections
· ESPN Bracketology (Joe Lunardi): 11 seed in South Region vs. Clemson in Dayton as part of "First Four" (updated Feb. 6)
· CBS Sports (Jerry Palm): 11 seed in Midwest Region vs. Notre Dame in Salt Lake City (updated Feb. 5)
· Assembly Call (Andy Bottoms): 10 seed in South Region vs. Xavier in Orlando (updated Feb. 7)
· Crashing the Dance: Not in the field (unchanged from last week)
· Bracket Matrix: Third No. 10 seed
Indiana is still in the tournament in many projections, but the Hoosiers are a No. 10 seed or lower in most projections. The Crashing the Dance model has Indiana out of the tournament for a second straight week.
Here's what ESPN.com's bubble watch wrote on Tuesday morning about IU's chances:
November feels so long ago. On Nov. 11, in their season-opener, the Hoosiers beat Kansas 103-99 in overtime on a neutral court in Honolulu. A couple of weeks later, they convincingly handled North Carolina in Bloomington. James Blackmon Jr. was having a lights-out scoring campaign. Life was grand. It has been all downhill since. The Hoosiers are 5-6 after their first 11 Big Ten games, including a 30-point loss at Michigan on Jan. 26 and a 13-point loss at Northwestern on Jan. 29. OG Anunoby was lost to an injury; Blackmon, who has spent much of his career battling injuries, followed suit. Worst of all, the Hoosiers didn't win enough to cover up the empty calories they gorged on in nonconference play, including six against teams ranked outside the RPI top 280. Like all empty calories, these linger far beyond their up-front enjoyment, and have thus placed the Hoosiers — who had November's best pair of nonconference wins — firmly on the bubble moving forward. Yikes.
Final record projections
Two weeks ago, KenPom.com projected the Hoosiers to finish 20-11 overall and 10-8 in the conference. For the past week, that projection has dropped to 18-13 and 8-10. RPIForecast.com has the four most likely final regular season records for IU as: 19-12 (28.9%), 18-13 (26.9%), 20-11 (18.8%) and 17-14 (15.1%).
A look at the conference as a whole
The Big Ten is currently a seven bid league on the most recent Bracket Matrix with Wisconsin, Maryland, Purdue, Minnesota, Northwestern, Michigan State and Indiana in the field.
Michigan, with a home loss to Ohio State last week, has fallen out of many projections. No other Big Ten teams are under serious consideration at this point. Iowa, which is sitting at 6-5 in league play, could perhaps get into the conversation if it can get to 11 conference wins.
As the season moves along, we'll dig more into each team's projections, but Bracket Matrix (updated Feb. 6) currently has Wisconsin as a No. 3 seed, Purdue as No. 5 seed, Maryland as a No. 6 seed, Northwestern as a No. 7 seed, Minnesota as No. 8 seed and Michigan State as a No. 9 seed.
2017 Tournament Sites
· First Four: Dayton
· First, second rounds: Buffalo, Greenville, Indianapolis, Milwaukee, Orlando, Salt Lake City, Sacramento, Tulsa
· Regional: Kansas City, Memphis, New York, San Jose
· Final Four: Phoenix
Filed to: NCAA Tournament