Crossroads Classic stalls IU's involvement in national events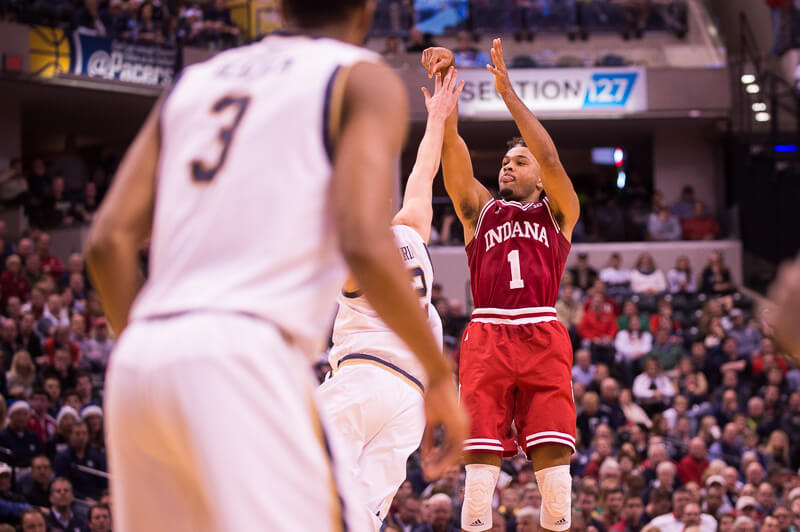 For the sixth consecutive year, the Crossroads Classic will tip off this weekend at Bankers Life Fieldhouse.
The annual event featuring Indiana, Butler, Notre Dame and Purdue will feature, for the first time, four ranked teams. On a normal Saturday in college basketball in December, that would be enough to headline the schedule nationally.
But as the proliferation of made for TV national showcases continues, the Crossroads Classic won't be the most viewed college basketball showcase this weekend. That title will go to the CBS Sports Classic, which will feature three teams ranked in the top seven in UCLA, Kentucky and North Carolina.
The CBS Sports Classic, which was recently extended through 2019, originally targeted Indiana according to multiple sources. But with the Hoosiers locked into a deal with the Crossroads Classic through 2019, it had to settle on Ohio State.
So while the Buckeyes and Bruins tip off at 3 p.m. ET from Las Vegas on CBS, Indiana will play Butler a few hours later on the Big Ten Network. About 45 minutes into Indiana's contest with Butler, North Carolina and Kentucky will tip off on CBS.
Indiana AD Fred Glass told Inside the Hall in a recent one-on-one interview that the program's commitment to the Crossroads Classic has hampered its ability to participate in national events.
"I believe we're an elite status program and should be in those kind of events and have been invited to be in those kind of events," Glass told Inside the Hall. "I think our recent success against the likes of North Carolina, Kansas and Kentucky shows that it's not just a historical perspective. It's a current perspective. And that is a drawback, I think, of our commitment to the Crossroads Classic."
That, however, doesn't mean that Glass isn't a fan of the Crossroads Classic. Glass, an Indianapolis native, spoke highly of the event, calling it great for both IU and basketball in the state in general.
The downside, of course, is missing out on these national events that enhance the program's brand on a bigger stage. With the dates for the Crossroads Classic already set through 2019, relief in terms of flexibility of dates isn't on the immediate horizon.
The ability for more choice, however, is something that Glass would like to be on the table in the future.
"I, for one, would be willing to look at alternative times to facilitate flexibility for all of the partners to participate in other events," he said. "Of course we're just one of the schools and we appreciate our relationship with the (Indiana) Pacers as well. I'd be open to looking at whether there are other dates that work well for the Crossroads Classic and keep it viable, but at the same time, allow all of us some scheduling flexibility to perhaps participate in some of these other important opportunities for us."
Ultimately, gaining more scheduling options for the event is something that will have to be agreed upon by all four schools who participate as well as the Pacers. The current Crossroads Classic deal, which was announced in August of 2014, set dates through 2019, which will be the ninth season of the event.
Whether or not scheduling flexibility is a part of the event's future, Glass would like Indiana to remain in the Crossroads Classic and also be able to play in events like the CBS Sports Classic. It remains to be seen if that can be achieved.
"I do acknowledge that we've had some opportunities to be in events that we'd like to be in, that we think would enhance the event, that we think we belong in as basketball royalty," he explained. "We'd like to be there and haven't been able to because of those conflicts.
"I want to make clear that I continue to be very committed to the Crossroads Classic. If we made changes going forward, which I think we should explore that, it would be in concert with our partners."
Filed to: Crossroads Classic, Fred Glass