News and notes from Tom Crean's radio show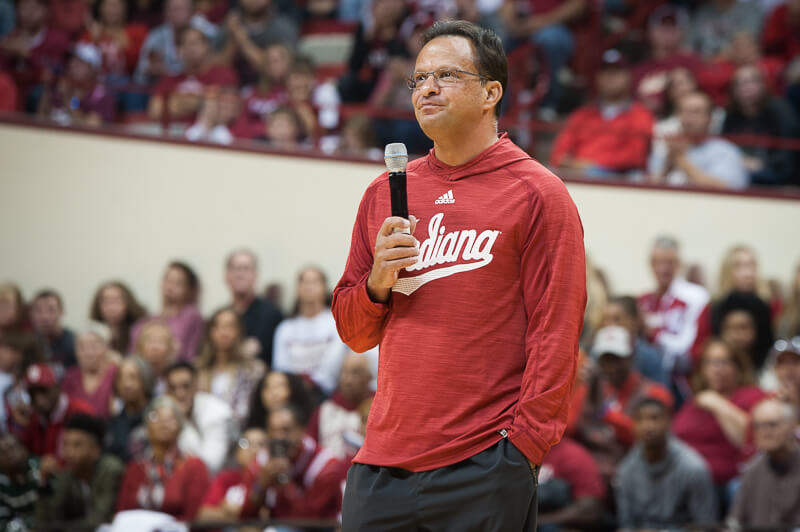 Inside IU basketball with Tom Crean was live on Monday evening from the Holiday Inn in Bloomington as the Hoosiers prepare for Friday's season opener in Hawaii against Kansas. Sophomores Thomas Bryant and Juwan Morgan were this week's player guests.
Below are news and notes from Crean's comments on Monday evening:
· Crean said that one of the things that Indiana learned on Saturday night against Bellarmine was that it can guard and bring fatigue to the game even when shots aren't falling from the perimeter. "We had a great week of practice and they carried over that intensity and the execution."
· Crean said that he thought Indiana didn't get the backcuts they needed to and took too many 3s off of one pass rather than getting the ball reversed in the exhibitions. Indiana didn't do a lot of up and down scrimmaging in the summer or the fall and is behind there. "We'd like to be ahead of the game there, but we're not."
· James Blackmon Jr. showed maturity, according to Crean, on Saturday against Bellarmine. "He just kept playing. He played 26 minutes without a turnover, he kept defending and there was never any frustration in him. James continued to impact the game. That's a big thing."
· De'Ron Davis isn't on a minutes restriction, but Crean described it more as a "hockey shift" situation. Davis had 10 deflections and three steals in the Bellarmine exhibition.
· Crean said the speed that Morgan played with in Indiana's 5-on-5 in practice on Monday was "incredibly noticeable." Morgan still is less than two weeks back in terms of being cleared to play with contact.
· Freddie McSwain didn't start going full court until every other day last week, according to Crean. McSwain will have a time and a minutes limit for a while.
· Crean said Kansas' team speed really stands out on film. He said this Kansas team appears faster than the North Carolina team Indiana faced in the Sweet 16. "It's going to be crucial that we get back and get the ball stopped in transition."
· Crean said the vocal leadership has to be multiple guys, not just one guy. Will be important against Kansas. "That team is coming at you."
· Crean said Collin Hartman is "doing a great job" on the sideline. Believes this will be a great opportunity for Hartman to learn. Hartman stopped practice twice on Monday to point something out. "It's so great to have him be a part of it."
· Tim Priller injured his shoulder in a drill last week and it's unclear as to whether he'll be cleared by the start of the regular season.
· Crean believes Max Bielfeldt has a future in TV if that's what he wants to do. "He's incredibly smart and cerebral."
· Crean was asked about starting lineups this season and said it's "more than likely" that Indiana will use different starting lineups this season.
· In the player guest portion of the show, Bryant says he knew "midway through the season" that he was going to come back for his sophomore season.
· Morgan said Crean "likes to bring chaos to practice because he knows that's how it will be during the game."
· Bryant said that this year's team has gelled a little bit faster than last season. Also feels this team is more athletic.
· Morgan said it was a month and a half after surgery before he was able to do anything with his left arm.
· Morgan said he came into Indiana at 250 or 255 pounds. "I was a little chubby." Said he dropped about 20 pounds. Bryant says he's put on 30+ pounds total since coming to Indiana.
Filed to: Tom Crean