Roundup: Updated way-too-early preseason top 25s for 2016-2017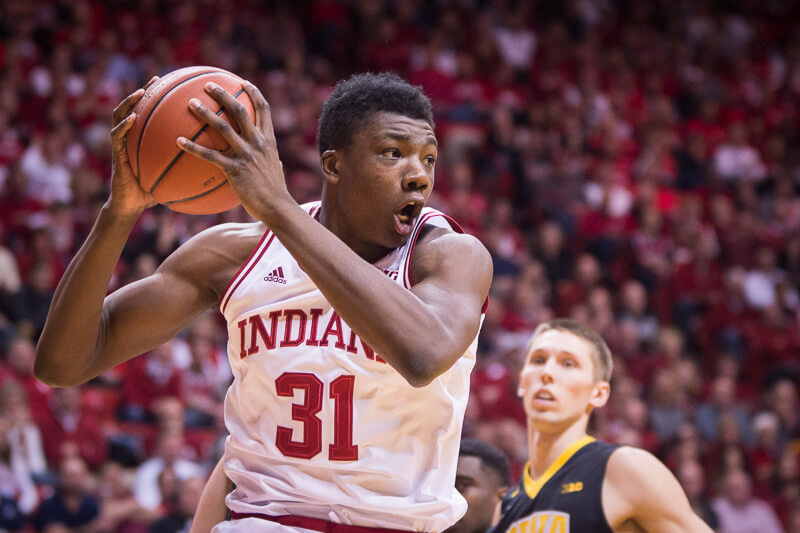 With last Wednesday's deadline to withdraw for the NBA draft, updated top 25s for the 2016-2017 college basketball season are beginning to trickle out.
In recent weeks, we've learned plenty about Indiana's roster for next season. Troy Williams is off to the NBA draft, but OG Anunoby, Thomas Bryant and James Blackmon Jr. are all staying in Bloomington. Freddie McSwain joined the five-man 2016 recruiting class. And the Hoosiers had just one transfer – walk-on Harrison Niego.
Here's a look at where the Hoosiers stand in several updated preseason top 25s for the 2016-2017 season:
Eamonn Brennan of ESPN.com: No. 11
The biggest announcement of Indiana's offseason came long before May 25. For months, it seemed certain freshman centerThomas Bryant, a potential first-round pick, would be done after one. Not so much. Bryant's return was the cornerstone, an implicit guarantee of baseline success. From there, IU had two more decisions to resolve. By May 25, both were foregone conclusions: James Blackmon Jr., still recovering from injury and merely gathering NBA info, was always going to return, and Troy Williams was determined to stay in, long-shot projections be damned. Even so, Blackmon and Robert Johnson will let Tom Crean surround his elite big man with another ball-moving, pace-pushing perimeter, and the result should be as fun as ever.
Jeff Eisenberg of Yahoo! Sports: No. 8
Outlook: Indiana emerged as one of the big early-entry period winners because the Hoosiers lost only one of their four potential draft prospects. Yes, they said goodbye to the talented but erratic Williams. But keeping Bryant, Anunoby and Blackmon was huge, especially considering Bryant showed enough as a freshman that he likely would have been taken in the first round and Anunoby had flashed enough raw potential to be a potential second-round flier for a franchise willing to develop him. With those two back, Indiana's strength should be in the frontcourt, as Hartman, Morgan and the promising freshman Davis are also capable of making an impact. There's no single player who will replace everything that Ferrell did for Indiana this past season, but Indiana has options in the backcourt too. Newkirk, a Pittsburgh transfer, should compete for playing time at point guard with Johnson. A healthy Blackmon is likely to start at wing and Jones should also see playing time as well.
Rob Dauster of NBCSports.com: No. 14
Why they're here: The Hoosiers are another team that is very up in the air at this point, even with Thomas Bryant back in the fold. Blackmon and Anunoby should be key, but Williams' loss hurts and Yogi's graduation is a massive void.
Gary Parrish of CBSSports.com: No. 11
It's always difficult to project how a team will respond to losing a top-shelf point guard like Yogi Ferrell. But there are enough good pieces returning at Indiana — Thomas Bryant, OG Anunoby, James Blackman, etc., — to make it reasonable to expect the Hoosiers to not slip much, if at all, especially if Pitt transfer Josh Newkirk is as solid as Tom Crean's staff believes.
Yogi Ferrell (graduation) and Troy Williams (early entry) are both gone, but OG Anunoby, Collin Hartman and Thomas Bryant should make up one heck of a frontcourt. James Blackmon returns as a high-level scorer, and Pitt transfer Josh Newkirk is eligible and waiting for Ferrell's spot.
The good news – star center Thomas Bryant is back. The bad – Troy Williams went to the NBA. Depending on what Hoosiers fans you talk to, there's no bad news there. Anyway, OG Anunoby and James Blackmon should be difference-makers, but this team really needs a point guard, but replacing Yogi Ferrell is going to be impossible.
Filed to: 2016-2017 season preview