Williams still pondering future as draft combine tips off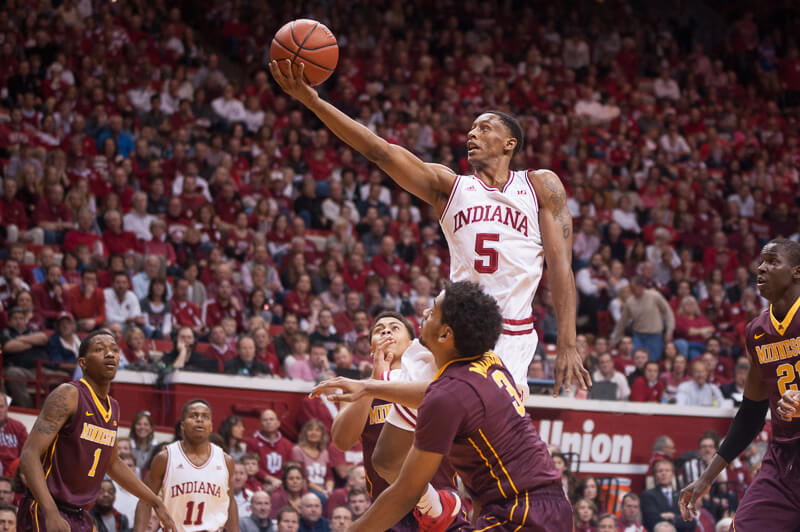 Speaking to reporters at the NBA draft combine in Chicago on Thursday evening, Indiana junior Troy Williams said he is still undecided on whether he'll keep his name in the draft or return for his senior season.
Williams, who has not signed with an agent, has until May 25 to withdraw his name and still retain eligibility for his senior season.
The 6-foot-7 wing said he expects to have a final decision soon, potentially as early as next week.
"I'll talk to my uncle, John Lucas, my aunt (Terri Williams-Flournoy) and coach (Tom) Crean," Williams said. "But at the end of the day, it is still my decision."
A third team All-Big Ten selection as a junior, Williams averaged 13.3 points and 5.8 rebounds for the Hoosiers, who won the conference outright for the second time in four seasons.
He said his time at Indiana really helped him blossom his game as he came to college as an athlete who had a long way to go in terms of skill development.
"It helped me out a lot. I went from an athlete to being a basketball player," he said. "Coming in, I was just an athlete. As the years went by, I developed a better skill set. Being at Indiana, I made a lot of plays, had the ball in my hands a lot, was able to control the court."
With Thomas Bryant returning as well as Robert Johnson, OG Anunoby and several others, Indiana has been mentioned as a top 15 team in several preseason polls for next season.
While that's intriguing for Williams, he said Thursday that he has to make the best decision for him.
"Yeah, it is (appealing)," he said. "But at the same time, it's more of what can also benefit me the most."
Projected as a second round pick at best by most analysts who cover the draft, Williams has workouts scheduled next week with the Indiana Pacers and the Los Angeles Lakers and Clippers. He has relocated to Houston where he's working out with Lucas, a former No. 1 overall pick who he has trained with since his sophomore year of high school.
The experience at the combine, which Williams compared to going through the recruiting process as a high school player, has given him the opportunity to hear feedback directly from NBA teams.
"I've found out a lot of positive information," Williams said. "A lot of great things that I've heard. I've also learned a lot about myself. That's all going into helping me make my decision."
In his first 5-on-5 game on Thursday afternoon at the combine, Williams had 10 points on 4-of-14 shooting to go along with five rebounds in 20 minutes.
ESPN Analyst Jay Bilas ranked him as the No. 84 prospect in the draft during the network's broadcast of the combine.
While he's aware of where he's projected to go in the draft, a non-guaranteed contract that comes with being a second round pick isn't a deal breaker for Williams.
"It just depends upon where I'm at in the second round," he explained. "That comes into play. But at the same time, it's not going to kill my pride or anything like that if I have to go to the D-League. That will make me work even harder."
Filed to: Troy Williams