Draft watch: Pre-NBA draft combine update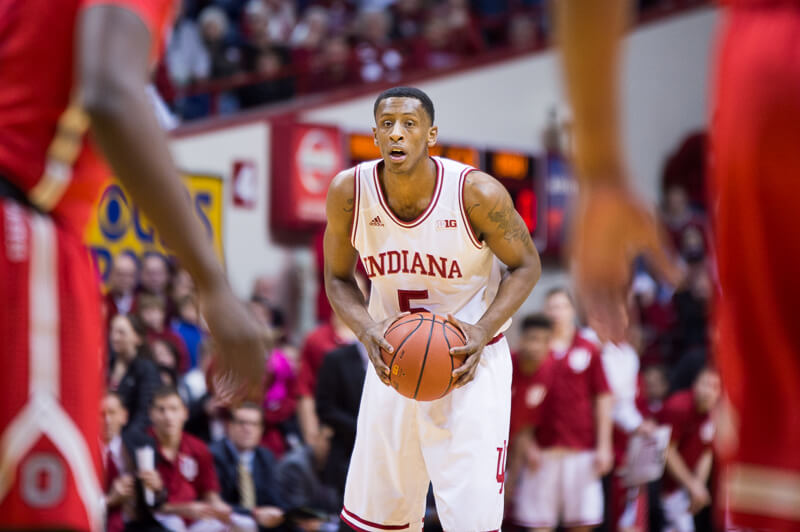 With a pair of NBA lottery picks in 2013 and one in 2014, draft watch was a regular feature on the site during the 2012-13 and 2013-2014 seasons. The Hoosiers didn't have an early entry to the draft last season, but that could change this year as Troy Williams has entered and is expected to remain in the 2016 NBA draft. James Blackmon Jr. has also declared (without a combine invite) and senior Yogi Ferrell also figures to be in the draft conversation.
Thanks to NCAA rules changes, the key date to know this year is May 25. For players who do not hire an agent, that is the deadline to withdraw from the draft and retain college eligibility. Underclassmen can enter the NBA draft multiple times without foregoing their eligibility and may participate in the combine and one tryout per NBA team per year and still return to college as long as they do not hire an agent.
With that information in mind, here's a look at some of the current draft rankings for Williams, Ferrell and Blackmon Jr. in advance of this week's NBA draft combine in Chicago (Note that the numbers below are from top 100 rankings regardless of class, not mock drafts):
Draft Rankings – Williams
DraftExpress Top 100: No. 84
ESPN Top 100 (Ford): No. 85
NBADraft.net: No. 60
CBS Sports (Vecenie): No. 67
The combine is going to be pivotal for Williams, whom Tom Crean said recently is expected to remain in the draft rather than returning to school for his senior season.
His rankings in the various top 100 lists are a bit spread out, but Williams is clearly in the mix to go in the second round, which would not yield him a guaranteed roster spot on an NBA team. However, it's possible that a franchise will look at him as a player they can stash in the D-League and develop for a year or two as a potential energy player off the bench.
If he did go undrafted, there's no doubt that Williams would have plenty of suitors for a Summer League invite and a training camp spot next fall. Given his elite athleticism and upside, he seems like a player that a franchise will be willing to take a chance on later in the draft.
Draft Rankings – Ferrell
DraftExpress Top 100: No. 66
ESPN Top 100 (Ford): No. 83
NBADraft.net: No. 96
CBS Sports (Vecenie): No. 57
Ferrell was an alternate for the draft combine and ultimately did not get in, but has set up a long list of workouts over the coming weeks. Perhaps he should have gone to the Portsmouth Invitational and tried to convince that he belonged at the combine, but he now has to overcome the obstacle of not landing a coveted combine spot.
Yogi Ferrell workout sched:LAL (5-16), LAC (18), Suns (20), Utah (22), Chi (23), Atl (25), Mavs (26), Det (31), Wiz (6-2), Nets (8), NY (10)

— Jeff Goodman (@GoodmanESPN) May 9, 2016
The good news for Ferrell? He's going to have plenty of opportunities through team workouts to convince a team to draft him in the second round. Both DraftExpress and CBS Sports are currently projecting him as a guy who could go late in the draft, but like Williams, if he goes undrafted, he's going to have plenty of teams lining up to bring him to the Summer League and training camp in the fall.
Draft Rankings – Blackmon Jr.
DraftExpress Top 100: NR
ESPN Top 100 (Ford): No. 111
NBADraft.net: NR
CBS Sports (Vecenie): No. 103
The expectation is that Blackmon Jr. will return to school and that he's using the process to gain direct feedback from teams, which is certainly a benefit of the rule changes.
According to comments from Crean over the weekend, Blackmon Jr. met with the Timberwolves over the weekend, but his health isn't at the point yet where he can work out. His chances of getting drafted are very slim.
Filed to: James Blackmon Jr., Troy Williams, Yogi Ferrell