2016 NCAA tournament: Previewing Big Ten matchups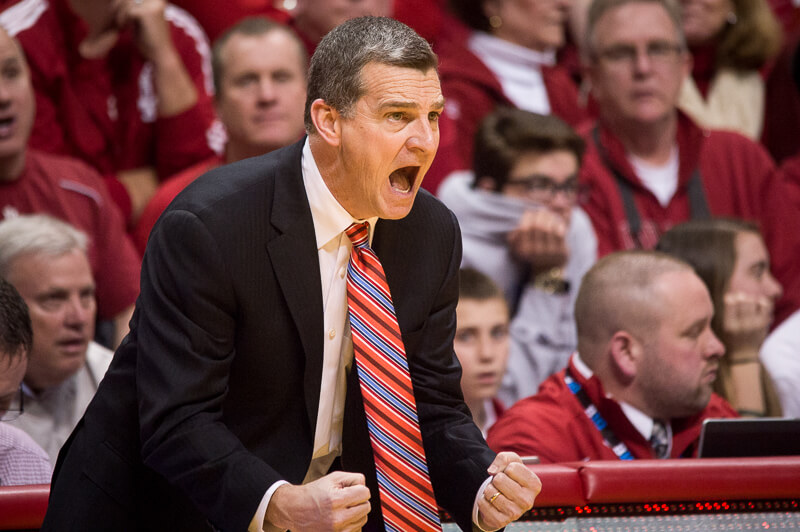 The Big Ten once again is sending seven teams to the Big Dance.
Michigan was the final team in from the conference, sneaking into a play-in game in Dayton, while the other six teams were all solidly in the field of 68. The Wolverines are the only Big Ten team that won't be the favorite heading into the first round (if they get by Tulsa, that is).
Michigan State getting snubbed for a No. 1 seed is the biggest national storyline, as the Spartans ended up the No. 2 in the Midwest region. MSU, Indiana, Purdue, Maryland, Iowa and Wisconsin will all be looking to avoid first round upsets and an early trip home.
The other top storylines are potential second round meetings. The rivalry between IU and Kentucky could be renewed should both teams win in the first round. Wisconsin and Iowa could both face No. 2 seeds with first round wins, and Michigan could battle Notre Dame.
Here's a look at each Big Ten matchup in the NCAA tournament:
No. 2 Michigan State vs No. 15 Middle Tennessee State (St. Louis, Friday, 2:45 p.m., CBS)
The Spartans will settle for a No. 2 seed, and it frankly might make their final four path easier. MSU has been dominant the last several weeks and tore through the Big Ten tournament in Indianapolis last weekend. Despite winning the tournament and finishing ranked the No. 2 team in the AP poll, Tom Izzo's group was denied a No. 1 seed. Denzel Valentine will be a player to watch in the tournament.
Middle Tennessee State got into the tournament after beating Old Dominion in the Conference USA title game. It is ranked No. 124 in KenPom, and has not played a top 25 team this season. Michigan State should cruise. KenPom: Michigan State 77, Middle Tennessee State 62
No. 5 Indiana vs No. 12 Chattanooga (Des Moines, Thursday, 7:10 p.m., CBS)
It seems like every team in the Big Ten got bumped down a seed-line. Indiana is no exception. After winning the Big Ten title outright, the Hoosiers are forced to play in the 5-12 game that often produces upsets. A big question for IU is health. Robert Johnson will likely be a game-time decision, and while Juwan Morgan and Collin Hartman both played Thursday, both looked banged up. Not looking ahead to a possible meeting with Kentucky will be key.
Chattanooga won the Southern Conference by beating East Tennessee State in the title game. The Mocs have solid wins over Dayton, Georgia and Illinois, and are good defensively. IU should still be able to handle this game and move on. KenPom: Indiana 76, Chattanooga 67
No. 5 Purdue vs No. 12 Arkansas Little Rock (Denver, Thursday, 4:30 p.m., TBS)
Purdue has been fairly consistent all season, but can it win away from home? Purdue breezed through Illinois and Michigan before losing to Michigan State in the Big Ten tournament, but might have a tougher time with Arkansas Little Rock.
The Trojans are ranked No. 47 in KenPom, and are one of the better defensive teams in the country. They won the Sun Belt conference after beating Louisiana Monroe. Expect this game to be slow and ugly – meaning it could go either way. KenPom: Purdue 68, Arkansas Little Rock 63
No. 5 Maryland vs No. 12 South Dakota State (Spokane, Friday, 4:30 p.m., TBS)
Maryland is extremely talented, no one will deny that. However, something has been missing all season, possibly chemistry on the floor. Melo Trimble and a wild Diamond Stone will need to lead the way, something tough to ask of younger players.
South Dakota State won the Summit League after topping North Dakota State. It beat Minnesota handily early in the season. Ranked No. 80 according to KenPom, the Jack Rabbits could provide a little trouble if the Terrapins don't have it together, but Maryland should advance. KenPom: Maryland 75, South Dakota State 69
No. 7 Wisconsin vs No. 10 Pittsburgh (St. Louis, Friday, 6:50 p.m., TNT)
Wisconsin was one of the hottest teams in the country, but cooled off in the final couple games, losing to Purdue and Nebraska to close the regular season and conference tournament. Greg Gard will have a chance to make a run in his first season as coach.
Pittsburgh is trying to avoid another early tournament exit. The problem might be that the Panthers aren't a great shooting team. They enter play ranked No. 45 in KenPom. Michael Young is the man to watch here. KenPom: Wisconsin 65, Pittsburgh 64
No. 7 Iowa vs No. 10 Temple (Brooklyn, Friday, 3:10 p.m., truTV)
Iowa slumped to the finish line after what looked like a very promising start. Once in position for a top four seed, the Hawkeyes are forced into a tough first round game, and should they win, an even tougher one in the next round. If Iowa is to make any noise, it needs to rally around Jarrod Uthoff.
Temple snuck in the dance, and will be looking to set up a showdown with Villanova in the second round. Temple turns the ball over the fewest times in the AAC (14.5 turnover percentage). It is ranked No. 86 in KenPom. KenPom: Iowa 73, Temple 66
No. 11 Michigan vs No. 11 Tulsa (Dayton, Wednesday, 9:10 p.m., truTV)
The Wolverines got into the tournament thanks to their big win over Indiana in the conference tournament. Michigan has talent with guys like Derrick Walton and Zak Irvin, but has struggled without Caris LeVert, who is out for the season. A showdown between Michigan and Notre Dame would be fun.
Tulsa is the shocker of the field. Most experts agree that it did not belong in. The Golden Hurricane went 20-11 and 12-6 in the AAC. They have wins over Wichita State out on conference, along with losses to South Carolina, Oregon State, Oral Roberts and Arkansas Little Rock. It must have been wins over SMU, Cincinnati, Temple and UCONN that got them in. Oh, and they lost to a bad Memphis team twice. Needless to say it would surprise me if Tulsa wins. KenPom: Michigan 73, Tulsa 72
IF Michigan beats Tulsa: No. 11 Michigan vs No. 6 Notre Dame (Brooklyn, Friday, 10:45 p.m., truTV)
Should Michigan beat Tulsa, its first round game would be against rival Notre Dame. The Fighting Irish lost to IU in December, but have some good wins in the ACC, including topping Duke twice, Louisville and North Carolina.
Filed to: 2016 NCAA tournament