Inside the Hall's 2016 Big Ten tournament preview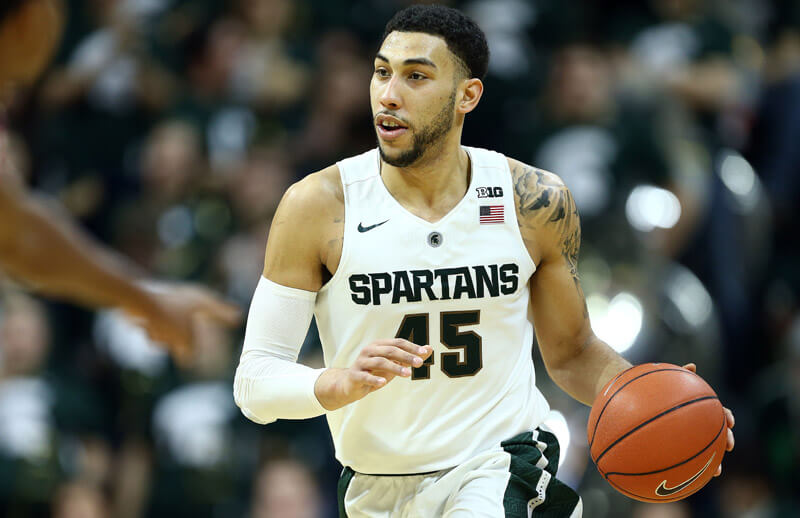 We'll have our traditional what to expect series previewing Northwestern or Michigan later on the day on Thursday, but first up, Inside the Hall previews the Big Ten Tournament as a whole. The event tips off on Wednesday afternoon:
2016 Big Ten Tournament bracket
Location: Indianapolis (Bankers Life Fieldhouse)
Dates: March 9-13
Teams with a bye to Thursday: Northwestern, Michigan, Iowa, Penn State, Ohio State, Wisconsin
Teams with a double bye to Friday: Indiana, Purdue, Maryland, Michigan State
Television: BTN, ESPN, ESPN2, CBS
Most friendly path to Sunday: Michigan State. This isn't to say that Wisconsin or Maryland will be unable to beat the Spartans in the second semifinal on Saturday afternoon, but Tom Izzo once again has his team peaking at the right time with a No. 1 NCAA tournament seed potentially on the line. In other words, pick against Michigan State at your own risk. After failing to capitalize on a friendly conference schedule in the regular season, Michigan State will be hungry to make a statement in Indianapolis.
Most intriguing Thursday matchup: Northwestern-Michigan. These teams met just once in the regular season with Michigan prevailing 72-63 in Ann Arbor. There's a lot on the line, potentially, for both teams. If Michigan wants to cling to any remaining hope of an at-large NCAA tournament berth, it must beat Northwestern because that opens a path to a shot at Indiana on Friday. And for Northwestern, which is looking to solidify an NIT appearance, beating the Wolverines on Thursday would probably lock up that bid. Michigan is clearly the more desperate team, but you can be sure that Northwestern seniors Tre Demps and Alex Olah want to go out on a high note in their final conference tournament.
Team with the most to prove: Iowa. The Hawkeyes came to Bloomington on Feb. 11 with a 10-1 conference record and a clear path to the regular season title. But after limping to the finish line with a 2-5 record over its last seven games, this is a difficult group to project moving forward. Iowa had some terrific regular season wins, but hasn't beaten a team in the RPI top 50 since January 24. Perhaps four days off since beating Michigan will help rejuvenate Iowa, which is likely looking at a six seed or lower if it can't advance to Saturday.
Players to keep an eye on:
· Denzel Valentine, Michigan State: If there are still national player of the year ballots outstanding heading into the weekend, this is Valentine's last chance to capture votes. If the Spartans can win the Big Ten tournament, that'll mean wins in 13 of their last 14 games for Michigan State with Valentine leading the effort.
· Peter Jok, Iowa: Iowa desperately needs to capture some momentum in Indy and Jok, who is 5-of-19 on 3s over the team's last three games, needs to come out of his recent funk for that to happen. If Jok can't return to the form he displayed early in the season that had him in the conversation for All-Big Ten first team, Iowa's ceiling will be significantly lowered.
· A.J. Hammons, Purdue: There's no player in the league who can impact the game more defensively than Hammons. He can be a one man wrecking crew in the paint as a shot blocker and rebounder. Quietly, Purdue has won four of its last five and Hammons has scored in double figures in each of those games.
· Troy Williams, Indiana: The Hoosiers are playing their best basketball of the season coming into Indianapolis and the ascent of Williams is a major reason why. He's cut down the turnovers and is attacking the rim relentlessly. Indiana was a good team even when he was inconsistent, but if he can continue to play at this level, the Hoosiers are really, really good.
· Melo Trimble, Maryland: The Big Ten's preseason player of the year was underwhelming in the regular season and didn't even make the All-Big Ten first team. But Trimble can make everyone forget about the regular season with a strong Big Ten tournament. Injuries have slowed him down considerably this year, but the Terps need Trimble distributing and drawing fouls to earn a shot at Michigan State on Saturday.
Bids on the line: Michigan State, Indiana, Maryland, Purdue, Iowa and Wisconsin are NCAA tournament locks, but all of those teams would love to improve their standing this weekend. Beyond that, Michigan is really the only team on the bubble with Ohio State perhaps on the fringe if it can win two games. The Wolverines probably need to win two games to get back on the right side of the bubble and that means beating Northwestern and then top seeded Indiana on consecutive days. The Buckeyes are likely headed to the NIT along with Northwestern, which can lock up its bid by beating Michigan.
Filed to: 2016 Big Ten tournament