John Groce concerned with Indiana's depth, speed in rematch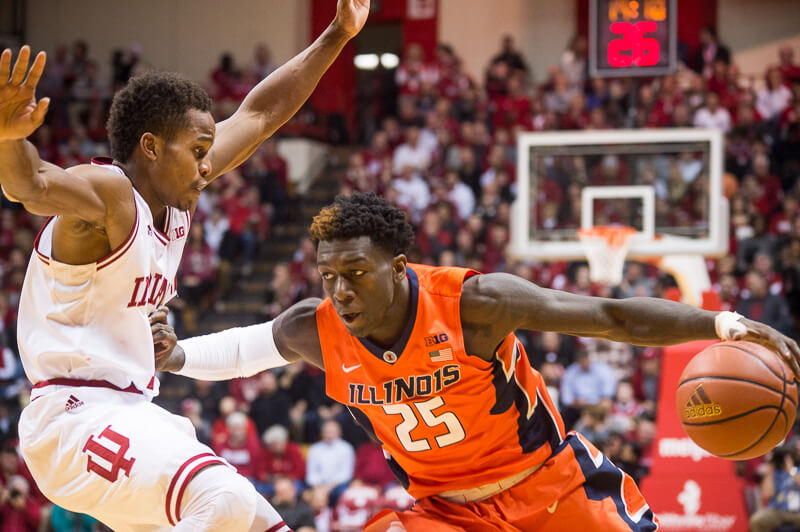 In order to stay one game in front of the race for the Big Ten regular season title, Indiana must beat Illinois tonight on the road. And even though the Hoosiers clobbered the Fighting Illini 103-69 in Assembly Hall, don't expect it to be an easy task.
This time, IU will likely be without guard Robert Johnson, who is recovering from a sprained left ankle. His potential absence could mean increased roles for Nick Zeisloft and Harrison Niego along with more backcourt minutes for Troy Williams.
After starting Big Ten play 3-0 on the road, Indiana has dropped three of its last four games away from Assembly Hall. Illinois (12-15, 4-10) will be looking to play the role of spoiler in IU's quest for a conference title.
"Obviously Indiana is playing well, they've got a great team," Illinois coach John Groce said on Wednesday. "They're really good on the offensive end, they're good defensively – a lot of that gets overlooked because of how good they are on offensive end."
Groce talked a lot of about Indiana's depth and speed, something that can cause a lot of problems for a team like the Fighting Illini who don't have nearly as much depth.
Illinois is coming off a nine-point loss at Wisconsin, a game in which the Illini had a lead for most of the game but couldn't hold on. Groce said he see things carry over to games from practice, but a few turnovers cost his club the road win. His team's defensive improvement has been the biggest thing to him, and hopes that carries over to the IU game.
"We have to do a better job defending the 3-point line," Groce said. "It's difficult to win when you give up 19 3s.
"There's no question that we're a lot better at both ends of the floor since the last time we played them. It's going to take a great effort by our guys, great concentration and attention to detail to defend them and make sure we're having quality possessions on the other end of the floor."
One thing is certain, Groce does not want his team to get blown out again. He gushed about Indiana's offense and the ability for it to explode as it did against Michigan.
"They can do this to people. They had a stretch of three or four games at home there where they had people down 30 plus," Groce said. "They're very explosive offensively. They can put points on the board quickly."
He attributed a lot of IU's success to Yogi Ferrell, saying he has improved, but also that he has made his teammates better. Ferrell had 16 points and nine assists in the last meeting, while Williams scored 21.
Williams will be counted on to continue his strong recent play. His splits away from Assembly Hall have not been good recently and he went scoreless in IU's last road game at Michigan State.
A win tonight would set up a game with Iowa that could give the Hoosiers an outright Big Ten crown. But as we saw a few weeks ago before Indiana last met Iowa, it can't afford to look past a road game against a bottom-tier conference team.
Groce said he watched a lot of film on both Indiana's wins and losses, but is keeping his gameplan a secret, saying there are some things he want to take away from the Hoosiers.
"It is easier said than done against them," Groce said.
Filed to: Illinois Fighting Illini