Five takeaways from Indiana's win over Purdue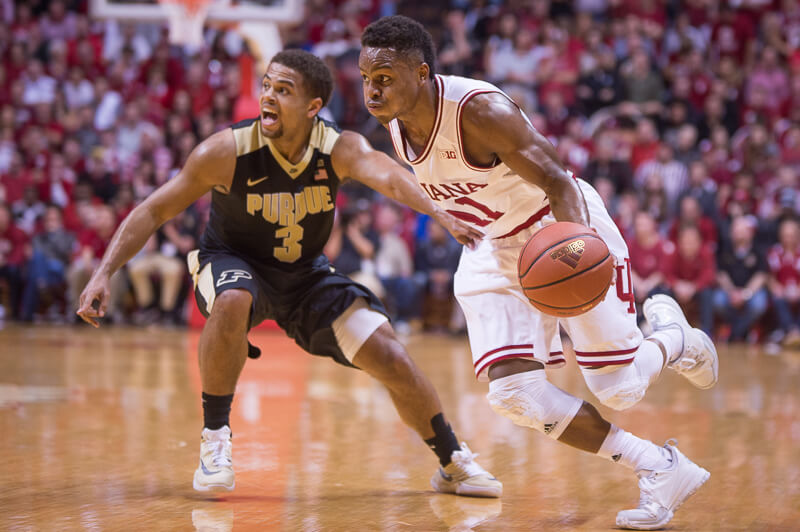 Indiana added another win to the resume on Saturday night at Assembly Hall as the Hoosiers beat Purdue 77-73 to move a half game ahead of Iowa in the Big Ten standings.
Here's a look at five takeaways from the victory over the Boilermakers:
· Indiana controlled the defensive glass and thus, controlled the game: Arguably the biggest question for Indiana entering Saturday night was whether the Hoosiers would be able to keep Purdue off of the offensive glass.
Purdue came into Assembly Hall with a Big Ten leading offensive rebounding percentage of 36.4. But the Boilermakers never got it going against Indiana as they pulled down just four offensive rebounds for an offensive rebounding percentage of 18.2. That was the lowest offensive rebounding percentage for Purdue since a loss to Notre Dame in the Crossroads Classic in December of 2013.
"That was the number one key of the night, that we limited them as much as we could to one shot," Tom Crean said postgame. "If we got a turnover, so be it. We ended up getting some that we turned into points, which was huge. For us to carry that out is probably one of the main reasons, that with the activity we had on defense, for the way we won the game."
· Yogi, Troy key offense early on: As important as it was for the Hoosiers to hold their own on the glass, it was just as important to not play from behind.
Indiana got excellent offensive play early from both Yogi Ferrell and Troy Williams, who combined for 28 of the team's 35 first half points. Ferrell broke out of a shooting slump in a major way with a 7-of-13 performance from the field and Williams was even more efficient at 7-of-11.
"Troy playing like that, he's basically unstoppable," Ferrell explained. "What he does is he gets lost in the game. When I'm driving and I find him, I'm definitely going to hit him, he's going to be wide open, he can dunk it for us.
"He's doing a great job being patient, not trying to force it, taking what the defense gives him. He's been working on shooting. I think it's a big confidence factor. He's had that the last two games."
· Turnovers prove costly for Boilermakers: Both teams ranked in the bottom four of the conference in turnover percentage, but it was Purdue that struggled to take care of the ball in Assembly Hall.
Indiana had a season-low four turnovers for a turnover percentage of just 6.5, while Purdue had 13 turnovers for a turnover percentage of 21. Indiana scored 20 points off of those 13 turnovers including 14 off of the first five.
"We really helped them in the first half, you have to give them credit though," Purdue coach Matt Painter said. "I thought their pressure bothered us, they made it difficult to catch not really in the post but on the perimeter and anytime you can't catch on the perimeter or break people down, then it's going to make it harder to get to the rim, whether it's driving or posting up."
· Bielfeldt comes up big in second half: Max Bielfeldt started for the second time in three games, but had a pedestrian first half as he went scoreless and didn't grab a rebound in seven minutes.
But as you'd expect from a senior in a big game, Bielfeldt came up big in the second half with 10 points and six rebounds in 12 minutes. He hit a pair of 3-pointers, but also had a crafty move in the paint to score over A.J. Hammons and then drew a charge on Hammons on the ensuing possession on the other end:
AJ Hammons, meet the pair of calves known as Max Bielfeldt. https://t.co/ziBTPQsZlA

— Andy Wittry (@AndyWittry) February 21, 2016
· Hoosiers remain firmly in the mix for Big Ten regular season title: Indiana still controls its own destiny in the Big Ten regular season title race, which is all you can ask for with three games to play.
At 12-3, Indiana still has road trips to Illinois and Iowa before finishing the regular season at home against Maryland. Three more wins would win the crown outright and Ferrell credited this team's togetherness as a major reason the Hoosiers remain a viable contender for the conference title.
"I felt like we had a couple lulls, a couple losses here and there," he said. "But I felt like we bounced back from those losses really well. It's helped us win these games. We stayed with it. We have a very communicative team, I feel like. We're always talking. We're always talking other team's tendencies. We listen to each other. We just take it onto the court."
Filed to: Purdue Boilermakers