At the Buzzer: Indiana 77, Purdue 73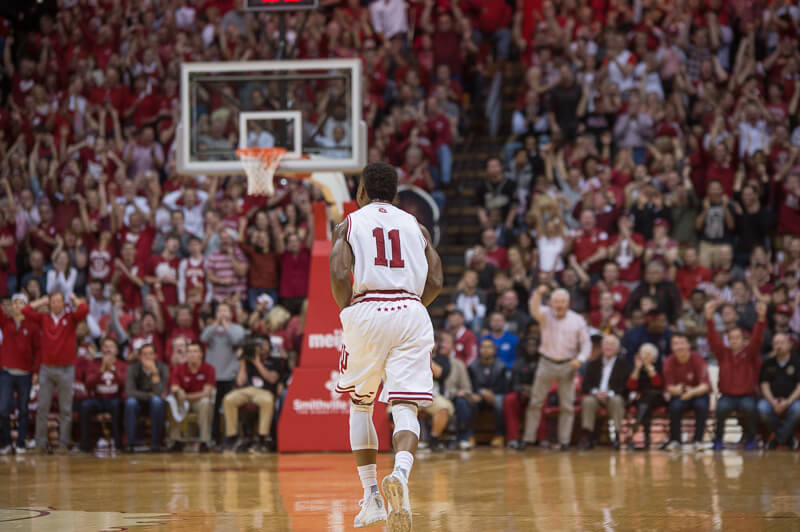 Quick thoughts on a 77-73 win over Purdue:
How it happened: Save for a late run late from Purdue that made it close, this was a very solid performance for the Hoosiers, who led for nearly 33 minutes. The Hoosiers shot it very well from the perimeter (11-of-28) as seven different guys connected from distance. Indiana led the entire second half as Yogi Ferrell snapped out of shooting slump to finish with 18 points on 7-of-13 shooting. Troy Williams was also terrific, especially early on. He scored 14 first half points as Indiana went into the halftime with a seven-point lead. The cushion ballooned all the way to 18 on a Robert Johnson 3-pointer with 7:14 to play, but Purdue didn't go down without a fight. After a careless turnover by Ferrell in the game's final minute, Dakota Mathias knocked down a 3 to draw Purdue within two at 75-73. Ferrell, however, drove to the basket and had his shot goaltended by A.J. Hammons with 7.1 seconds to play. Purdue's last second attempt by A.J. Hammons rimmed off with just over two seconds to play as IU wrapped up its 22nd win overall and 12th in conference play.
Standout performer: It was a great performance for Williams, who finished with a game-high 19 points, two assists and no turnovers in 19 minutes. Williams was an efficient 7-of-11 from the field, including 2-of-4 on 3-pointers.
Statistic(s) that stands out: Two things won this game for Indiana: how well it took care of the ball and its work on the defensive glass. The Hoosiers had just four turnovers for a turnover percentage of 6.5 and limited the Boilermakers, the Big Ten's best offensive rebounding team to just four offensive rebounds for an offensive rebounding percentage of 18.2.
Final stats: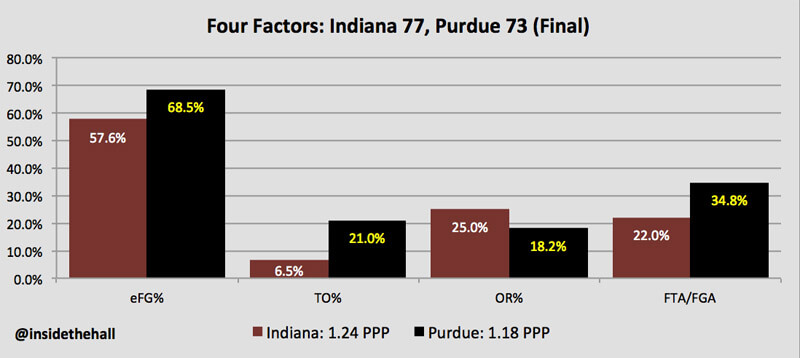 Filed to: Purdue Boilermakers