What to Expect: Michigan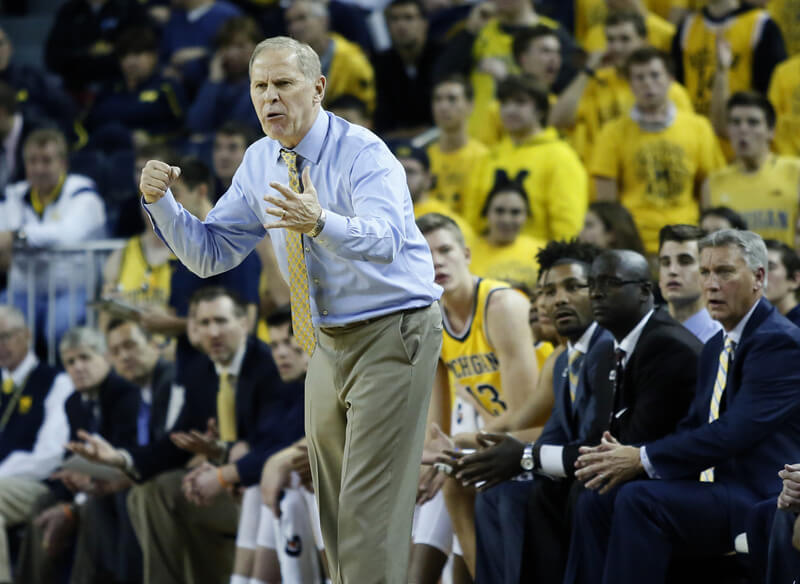 Indiana will seek its fourth Big Ten road win tonight as the Hoosiers travel to Ann Arbor to take on Michigan at the Crisler Center. The Wolverines, winners of four straight, are 17-5 overall and 7-2 in Big Ten play.
The game will be broadcast at 9 p.m. ET on ESPN with Mike Tirico, Dan Dakich and Allison Williams on the call:
At 8-1 with the lone blemish coming in overtime at Wisconsin, it's hard to find much to complain about with Indiana's performance in Big Ten play thus far.
The Hoosiers have certainly benefited from a favorable league schedule – the Pomeroy Ratings rank it the easiest so far for any Big Ten team – but things tighten up beginning tonight in Ann Arbor. Of IU's last nine games, six of them are against projected NCAA tournament teams in Michigan, Iowa (2), Michigan State, Purdue and Maryland.
Things are about to pick up for co-Big Ten leader @IndianaMBB. pic.twitter.com/gGwcuXx0k3

— Brent Yarina (@BTNBrentYarina) February 1, 2016
With just one win against the RPI top 50, Indiana has work to do to solidify its NCAA tournament resume. The Hoosiers, who seem to be playing with confidence, have to hope that building momentum early in conference play leads to success down the stretch.
MEET THE WOLVERINES (all stats are now conference only unless otherwise noted)
John Beilein has been without senior guard Caris LeVert for all but one of Michigan's nine Big Ten games, but the Wolverines are finding ways to win. Some of it could be the schedule – the 13th toughest in the conference – but a good part of it is solid coaching, preparation and a nice supporting cast which has stepped up during LeVert's absence.
Michigan has been coy on a return date for LeVert, but it sounds like he's getting close and it wouldn't be a surprise if he returns tonight. If that happens, it gives the Wolverines one of the nation's best perimeter players, but there could also be a bit of an adjustment period getting him back into the mix. LeVert has not played since Dec. 30, when he scored 22 points in a win at Illinois.
With LeVert out, the Wolverines have been very balanced scoring wise in conference play with six guys averaging between 7.6 and 13.7 points per game.
Point guard Derrick Walton, who missed the final 12 games last season with a foot injury, is putting together a very solid junior campaign. Walton is making 40 percent of his 3s in Big Ten play and is leading Michigan in rebounding at 7.3 per game. For a guy who is 6-foot-1, that's impressive. He's struggled to finish inside the arc, however, as he's shooting just 31 percent on 2s. He's a little more turnover prone than Beilein would like his point guard to be (16.6 TO%), but is terrific at getting to the line and converting when he gets there (86 percent).
Junior wing Zak Irvin, a Hamilton Southeastern product, is hitting close to 43 percent from distance in conference games and has the best assist rate (23.1 percent) of any player in the rotation. Irvin is also a strong defensive rebounder (17.4 DR%).
Redshirt sophomore Duncan Robinson (Shot Analytics chart below), who transferred from Division III Williams College, has been a terrific find for Beilein and his staff. The 6-foot-8 wing is hitting close to 38 percent of his 3s in league play, a number that has come down in recent weeks due a mini-slump. Robinson is also a perfect 19-of-19 from the foul line over the last nine games. Indiana simply can't afford to lose Robinson on the perimeter for uncontested looks: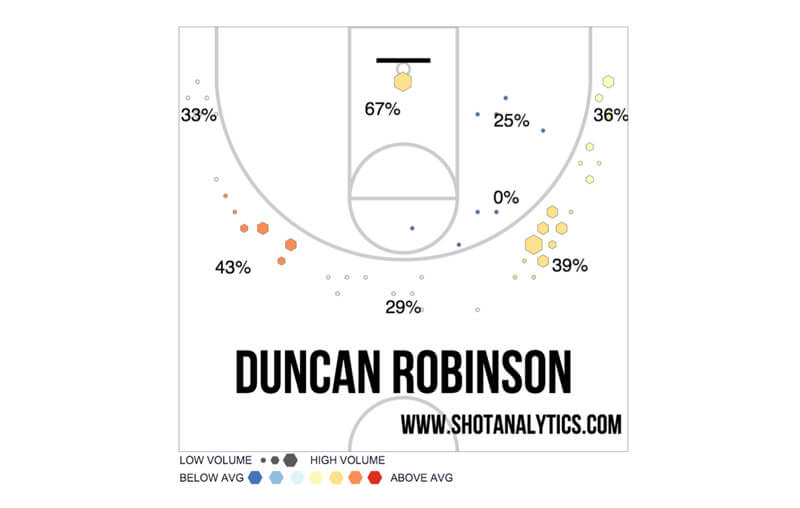 With LeVert out, the role of sophomore guard Muhammad-Ali Abdur-Rahkman has increased substantially. The Allentown, Pennsylvania native is averaging 9.2 points in Big Ten play and is shooting 59.5 percent on 2s and 36.8 percent on 2s.
Sophomore wing Aubrey Dawkins has been Michigan's best 3-point shooter over the last nine games from a percentage perspective (55.2) and averages 7.6 points in 15.8 minutes off the bench.
Michigan's post situation has been solved with the emergence of Mark Donnal, who is more than holding his own in the paint. The conference-only numbers for Donnal are impressive: He's the second best offensive rebounder in the Big Ten (15.5 OR%), he's making 61.4 percent of his 2s and his block percentage (5.5) is tenth in the conference. In close to 26 minutes per game, Donnal is averaging 11.6 points and 6.1 rebounds per game. He can also step out and hit the occasional perimeter shot as he's 4-of-10 on 3s in conference games.
The problem for the Wolverines could come if Donnal finds himself in foul trouble. The other three post players, who are all fringe rotation at this point, are Ricky Doyle, Moritz Wagner and D.J. Wilson. Doyle is the most experienced of the bunch and played 16 minutes against Penn State, so he figures to get the first crack. Statistically, however, none of the three have had anywhere near the impact of Donnal, who has been one of the most improved performers in the league.
TEMPO-FREE PREVIEW

This Michigan group is not unlike past Wolverine teams that have been successful under Beilein in that key characteristics seem to carry over from year-to-year: Elite shooting, low turnovers, very little offensive rebounding and an ability to keep the opposition off the foul line.
These are the two best shooting teams in the Big Ten, so a shootout could be coming in the Crisler Center. Indiana's defense is still the best in the conference, but the Hoosiers haven't faced an attack as potent as Michigan. The Wolverines rank in the 99th percentile nationally in both spot up and transition offense, according to Synergy Sports. They're not far behind in pick-and-roll, ranking in the 96th percentile there. With countless guys that can burn you on the perimeter, this is an opponent that will turn small mistakes into points.
The challenge for Michigan is this: Can the Wolverines slow down Indiana's potent offensive attack and keep the Hoosiers off the offensive glass? Michigan did a good job slowing down both Purdue and Iowa on the offensive boards, but both of those teams torched Michigan for 1.29 points per possession in losses for the Wolverines. Michigan's 2-point defensive field goal percentage is 53.8, so Indiana should be able to get its fair share of looks in the paint and at the rim.
WHAT IT COMES DOWN TO
For the first time this conference season, Indiana is an underdog on KenPom. His projections favor Michigan by 3 with just a 40 percent chance that the Hoosiers leave Ann Arbor with a victory. Sagarin also likes Michigan to win, but by two. The Vegas line, as of Tuesday morning, is Michigan by 2.5.
This has a chance to be one of the most entertaining games of the season thus far because both teams possess elite shooting and can go on major scoring runs. Indiana has always played Michigan well under Tom Crean as the Hoosiers' eighth-year head coach is 7-5 and just two of those setbacks have come by more than six points. Factor in Max Bielfeldt's familiarity with the Michigan program and IU should come in well prepared to find success.
That said, the Wolverines have been tough at home with the lone exception being a 16-point loss to Xavier back in November. It's a big week for Michigan with both Indiana and Michigan State coming down and a huge opportunity to solidify the NCAA tournament resume. Indiana is still looking for an elite road win and this would definitely qualify, but the Hoosiers are going to have to take much better care of the ball than what we saw in Wisconsin or in the second half against Minnesota.
(Photo credit: Duane Burleson/Getty Images North America)
Filed to: Michigan Wolverines