At the Buzzer: Indiana 80, Michigan 67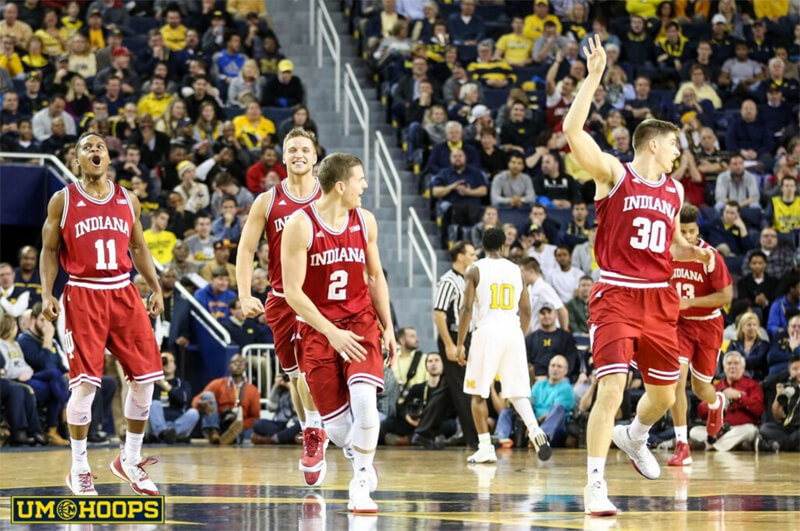 ANN ARBOR, Mich. – Quick thoughts on Indiana's 80-67 win over Michigan:
How it happened: Indiana found itself trailing Michigan 15-4 with 14:31 remaining in the first half and the Crisler Center crowd sent the Wolverines to a Hoosier timeout on its feet. But Indiana quickly stabilized things and battled back to pull within one at 21-20 on a Juwan Morgan layup. Michigan's next basket, a 3-pointer by Duncan Robinson at the 9:05 mark, would be its final points of the half. Indiana scored 25 unanswered on the Wolverines. The first half totals for IU: 1.30 points per possession with an effective field goal percentage of 71. Things didn't improve much for Michigan from there as Indiana cruised in the second half to its ninth Big Ten victory (matching last season's total) and 19th win overall. This was a dominating performance on the road against a team that beat Maryland on the same floor three weeks ago.
Standout performer: After a subpar performance by his recent standards against Minnesota, Yogi Ferrell bounced back in a major way at the Crisler Center. IU's senior point guard finished with 17 points, nine assists and two steals in 37 minutes. After Michigan's early spurt, Ferrell controlled the game the rest of the way.
Statistic that stands out: Indiana's defense, which entered the game as the best in the Big Ten, withstood a major test on the road as Michigan managed just .97 points per possession. That number jumped up a bit, too, as both teams emptied their benches.
Final stats: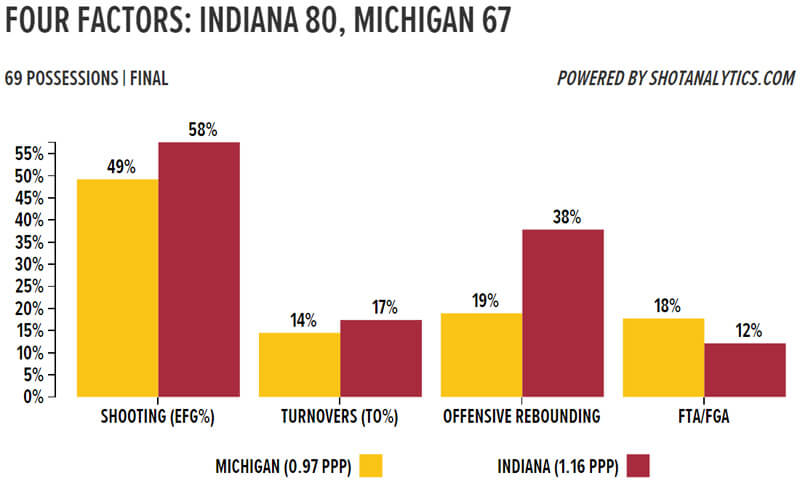 (Photo credit: Dustin Johnson/UMHoops.com)
Filed to: Michigan Wolverines